Moscow Bans Gay-Pride Parade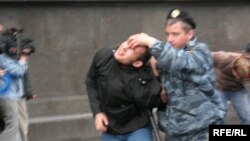 Police cracked down on the unauthorized parade in 2006 (RFE/RL) May 15, 2007 -- The Moscow city government has banned a proposed gay-pride parade that gay rights activists hoped to hold on May 27.
Nikolai Kulikov, who is in charge of security issues for the Moscow city government, explained the ban by saying that the proposed parade violates the "rights and liberties" of non-gay citizens.
Moscow authorities also banned the parade last year, and police broke it up when activists tried to hold a parade in spite of the ban.
(Interfax)


SUBSCRIBE For news and analysis on Russia by e-mail,
subscribe to "RFE/RL Russia Report."