It will mark one of the very few formal diplomatic engagements between Tehran and Washington since Iran's 1979 revolution and the subsequent severance of mutual diplomatic ties.
No date for the U.S.-Iranian talks has been announced. But Iran's public stance is that -- as with an Iraqi security conference in the Egyptian resort of Sharm el-Sheikh in early May -- it is willing to talk in order to help neighboring Iraq.
The head of the parliamentary National Security and Foreign Policy Committee, Alaeddin Borujerdi, asserted that "talks between Iran and America in Baghdad are to help the Iraqi people and government," and "put a full stop to the present security crisis in Iraq," ISNA reported on May 14. Borujerdi added that Iran's Supreme National Security Council, a key foreign and security policy-making body, should determine who will represent Tehran.
The U.S. ambassador in Baghdad, Ryan Crocker, is expected to represent Washington at the meeting.
Iranian legislators say the United States requested the talks, and they have implied that Iran is in the position of regional strength. At the same time, they have reiterated Iran's persistent distrust of the United States and its motives. They also wonder aloud what Iran might get in return for helping bring stability to Iraq.
What's In It For Us?
Iranian officials frequently claim that Tehran has helped Washington at sensitive junctures in recent years -- including in connection with the U.S.-led ouster of the Taliban regime in Afghanistan -- and received little in return. The editor of the conservative Iranian daily "Kayhan" on May 13 accused the United States of "want[ing] talks for [the sake of] talks, not to resolve mutual problems." Editor Hossein Shariatmadari described negotiations as a "great and strategic mistake" that would inflict "irreparable" harm on Iran, ISNA reported. Shariatmadari is widely associated with Supreme Leader Ayatollah Ali Khamenei. But he is also one of Iran's more outspoken public figures, and his views need not always reflect state policy.
The subject of engagement does not appear to be the "taboo" that it once was in Iran -- particularly during the Khatami presidency.
It goes without saying in Iran that there could be no talks with the United States without the tacit approval of key decision-makers headed by Supreme Leader Khamenei. But Shariatmadari argued that no change in U.S. conduct toward merited any verbal engagement. He said Iran and the United States have "essential" differences related to the nature of their systems, with tense relations an inevitable consequence.
Hossein Nejabat, a member of the parliamentary presidium, took a softer line on May 14. Nejabat said that "if America has asked [Iran] to help with stability in Iraq, and supposing it is sincere" -- which he described as doubtful -- then he said that Iran "will cooperate with it" and "all state institutions and factions confirm" such a position, ISNA reported. Nejabat said Iran and the United States must talk and back "anything that benefits" the Iraqis. But he stressed that Iranians "have to have [their] share in the matter."
Reza Talai-Nik, a member of the parliamentary National Security and Foreign Policy Committee, warned that talks yielding "weak" results could prompt the United States to launch a new round of accusations against Iran, ISNA reported. Talai-Nik argued that if "America fails" in the talks, it will "blame and intensify the psychological and political pressures against Iran." He counseled not allowing bilateral talks to become a "crux" of Iranian policy-making toward Iraq.
An 'Open Door'
Some of those same parliamentary voices have hinted at cautious interest in such talks' potential for opening the path toward a tentative rapprochement or broader discussions.
The parliamentary presidium's Nejabat suggested on May 14 that "negotiations about the nuclear dossier are a separate chapter" that might be discussed "whenever the parties accept each other's conditions." He stressed Iran's "many issues" of divergence with the United States, but added that they require "transparent" discussions. Nejabat cited an ongoing dispute over frozen Iranian assets in the United States and what he described as an openly stated U.S. desire for regime change in Iran.
The Security and Foreign Policy Committee's Talai-Nik noted that Iranian officials arrested in the Iraqi city of Irbil in January are still being detained, and said there are "limited grounds" for using talks to benefit the nuclear dossier. Talai-Nik said some agreement and an "approximation" of Iranian and U.S. policies in Iraq could advance the "possibility of reducing other tensions and challenges," although he cited "strategic differences" between the "aims of America and Iran over Iraq" as an obstacle to agreement.
Other legislators from the National Security and Foreign Policy Committee have also commented on the talks' potential beyond Iraq-related matters. Suleiman Jafarzadeh claimed on May 13 that "the Baghdad talks are basically to open the door to formal and open talks between Iran and America." He also urged talks at the foreign ministers' level.
Lawmaker Heshmatollah Falahatpisheh said on May 13 that the prospective talks alone demonstrate that the two states can resolve "some issues" through dialogue, ISNA reported. He said Baghdad talks could yield positive results if Iran feels there is "good will" on the other side.
Stealing Reformist Thunder
Mohammad Sadr, a deputy foreign minister under the reformist government of President Mohammad Khatami, said on May 14 that Tehran should make the talks "comprehensive" to ensure that Iran's needs -- notably in the nuclear area -- are also met. Sadr described Iraq as "Iran's winning card" and said Tehran "must use this winning card in comprehensive negotiations with America, to benefit from the negotiations," "Aftab-i Yazd" reported on May 15.
Conservative commentator and journalist Amir Mohebbian argued that Iran must -- in these talks -- ask the United States to put aside "senseless projects" like regime change in Iran and to stop causing "problems" for Iran, Mehr news agency reported on May 14. He said there is no sense in talks wherein Iran would help Washington without reciprocity or reliable commitments on respecting Iranian interests.
Many of these comments suggest that -- whatever Iranian officials' expectations -- the prospect of direct talks with the United States is tantalizing. The subject of engagement does not appear to be the "taboo" that it once was in Iran -- particularly during the Khatami presidency. Indeed reformists -- now outside the halls of power -- have frequently claimed that conservatives would do everything in their power to ensure that they -- and not a reformist-led government -- would initiate any dialogue with the United States. That tack reveals a belief among Iranian politicians that the political leadership could reap benefits -- and added public credibility -- that might be conferred by reduced tensions with the United States.
So even as it proves difficult to promote any relations with a global power frequently regarded as Iran's nemesis, it might be argued that the perspective on limited contacts is not inherently negative.
Perhaps no breakthroughs will occur at these Iranian-U.S. talks. But there is a chance that -- in time -- direct and public contacts between U.S. and Iranian officials will cease to be a rarity.
Thinking Strategically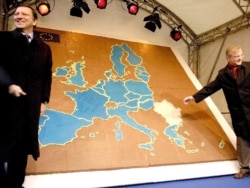 EU officials discussing enlargement at a meeting in December 2006 (epa)
OVER THE NEXT HURDLE: Bruce Jackson, president of the Project on Transitional Democracies, gave RFE/RL a wide-ranging presentation on issues related to European integration in the Balkans and Eastern Europe, as well as strengthening relations between the West and Central Asia.
LISTEN
Listen to the entire briefing (about 60 minutes):

Real Audio
Windows Media
RELATED ARTICLES
Kremlin Sees Its Foreign-Policy Star On Rise
Brussels Mulls Over Its Energy Sources
Experts Ponder Future 'Gas Wars'
The Fate Of The Multivector Model In Central Asia
SUBSCRIBE
For daily news updates from throughout RFE/RL's broadcast region by e-mail,
subscribe to "RFE/RL Newsline."