Mottaki told a news conference in Islamabad that no other contentious issues would be discussed.
"The negotiation is limited to [the subject of] Iraq, [taking place] in Iraq," Mottaki said.
He said the talks will be at the level of ambassador.
The United States has so far made no announcement. Recent reports suggested that U.S. Ambassador to Iraq Ryan Crocker would represent Washington at any Iranian-U.S. meeting.
Iranian Supreme Leader Ayatollah Ali Khamenei, who is the highest political and religious authority in the Shi'a-dominated republic, said on May 16 that any such meeting would focus solely on the "responsibility of the occupiers" in Iraq.
The United States has accused Iran of fomenting violence in Iraq by backing Shi'ite militia there, and of providing weapons and technology for new versions of roadside bombs used against U.S. troops.
Iran denies the charges and accuses the U.S. of igniting tension between Iraq's Shi'ite and Sunni Muslims.
Washington and Tehran also continue to disagree over Iran's nuclear activities. U.S. officials have also accused Iran of a covert effort to develop or possess nuclear weapons, a charge that Tehran has repeatedly denied.
The UN's nuclear watchdog, the International Atomic Energy Agency (IAEA), has criticized Tehran for a lack of disclosure and said it cannot rule out weapons links to Iran's nuclear activities.
A recent "New York Times" report suggested that the IAEA will conclude in an upcoming report that Iran has made surprising advances in its nuclear efforts.
(Reuters, AP)
Iraq And Iran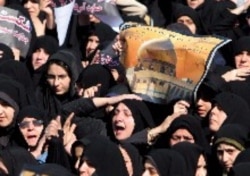 Iranian Shi'a protesting the Golden Mosque Bombing in Iraq on February 24


WHAT IS GOING ON? On March 8, RFE/RL's Washington office hosted a roundtable discussion on relations between Iraq and Iran. Although most analysts agree that Iran has been actively involved in Iraq since the U.S.-led military operation to oust former Iraqi President Saddam Hussein, they continue to debate the nature, extent, and intent of that involvement.
The RFE/RL briefing featured WAYNE WHITE, former deputy director of the U.S. State Department Bureau of Intelligence and Research's Office of Analysis for the Near East and South Asia, and A. WILLIAM SAMII, RFE/RL's regional analyst for Iran and editor of the "RFE/RL Iran Report."
LISTEN
Listen to the complete RFE/RL briefing (about 75 minutes):

Real Audio
Windows Media
RELATED ARTICLES
Iran/Iraq: Bilateral Ties Improving Despite U.S. Worries
Renewed Speculation About Tehran And Instability In Iraq
Iran/Iraq: Neighbors Mending Ties, But Outstanding Issues Remain
ARCHIVE
RFE/RL's
coverage of Iran
. RFE/RL's
coverage of Iraq
.