Yushchenko Will Not Observe Court Decisions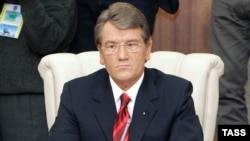 Ukrainian President Viktor Yushchenko (ITAR-TASS) May 18, 2007 - Ukrainian President Viktor Yushchenko's chief of staff says the president intends to ignore any ruling on his decrees by the Constitutional Court.
On May 17, the court's top judge, Ivan Dombrovskyy, resigned.
The court replaced Dombrovskyy with Valeriy Pshenychnyy -- whom Yushchenko had fired earlier this month.
Presidential chief of staff Viktor Baloha said that because of Pshenichny's appointment, decisions by the court would not be valid.
(AP, AFP)