Iranian state television quoted Mohammad Saidi, deputy head of Iran's Atomic Energy Organization, as saying the plant will have a capacity of 360 megawatts.
He did not say where the plant would be located, but said Iran will join the club of countries that can build nuclear plants in "the next 10 years."
Saidi added that Iran's first nuclear power station, which is being built by Russian experts at Bushehr, will be launched in March, 2008.
(AFP)
The Proliferation Threat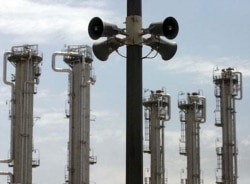 The Arak heavy-water plant in central Iran (Fars)


BENDING THE RULES. Henry Sokolski, executive director of the Nonproliferation Policy Education Center, told an RFE/RL-Radio Free Asia briefing on January 9 that the West is hamstrung in dealing with Iran and North Korea because of the way it has interpreted the international nonproliferation regime to benefit friendly countries like India and Japan.
LISTEN
Listen to the entire briefing (about 90 minutes):

Real Audio
Windows Media
RELATED ARTICLES
Iran, North Korea Present Proliferation Challenges
Tehran Watches As North Korea Tests Global Resolve
Rogue Nuclear Programs Threaten New Arms Race
Why Shouldn't Pyongyang Join Nuclear Club?