Talabani is to spend three weeks in the United States.
He said while boarding the plane in Iraq on May 20 that he is going to the United States "to lose weight and have some rest and relaxation."
Talabani is 73 years old and collapsed in late February and was rushed to hospital.
He was flown to a clinic in Amman, Jordan, and was said to be suffering from exhaustion and dehydration caused by lung and sinus infections.
Meanwhile, in Canberra, Australia, Iraqi Foreign Minister Hoshyar Zebari said today that he hopes the likely new U.K. prime minister, Gordon Brown, will maintain the British commitment to troops in Iraq when he takes office in June.
Zebari said while on a visit to Australia that he hopes there won't be any "dramatic changes [in troop levels]" when Brown replaces Tony Blair.
He added that "these are critical times for all of us [in Iraq]." Britain has some 7,000 troops in Iraq, but has announced it will reduce that number to about 5,500 this year.
(AP)
Building Democracy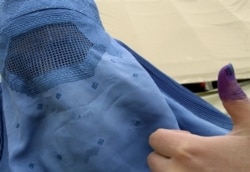 An Afghan woman votes in Kandahar in October 2004 (AFP)
ROWING AGAINST THE TIDE:
National Endowment for Democracy President Carl Gershman and Hudson Institute Senior Fellow John O'Sullivan led an RFE/RL briefing about U.S. efforts to promote democracy around the world, and especially in the Middle East.
LISTEN
Listen to the entire briefing (about 55 minutes):

Real Audio
Windows Media
RELATED ARTICLES
U.S. Reports On Democracy-Promotion Efforts
Is Bush Abandoning Democracy Building In Iraq?
Karen Hughes Urges Dialogue Based On 'Common Values'
SUBSCRIBE
For a regular review of civil-society developments throughout RFE/RL's broadcast region,
subscribe to "RFE/RL (Un)Civil Societies."