UN Nuclear Watchdog Prepares Report On Iran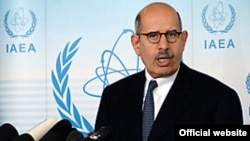 IAEA chief el-Baradei (file photo) (official site) May 22, 2007 -- The International Atomic Energy Agency (IAEA) is expected to present its latest report on the progress of Iran's nuclear program to the UN Security Council on May 23.
Analysts expect Director-General Muhammad el-Baradei to report a
further expansion of Iran's uranium-enrichment program and a continued
lack of cooperation with the UN nuclear watchdog.
Such a conclusion
would likely lead to broader UN sanctions against Tehran. Two rounds of
sanctions have already been implemented.
Meanwhile, two IAEA inspectors arrived in Iran today for a routine inspection visit. They are expected to visit the Isfahan and Natanz nuclear facilities.
(compiled from agency reports)

THE COMPLETE PICTURE: RFE/RL's complete coverage of controversy surrounding Iran's nuclear program.
CHRONOLOGY
An
annotated timeline
of Iran's nuclear program.