Putin was welcomed by Austrian President Heinz Fischer, and he is scheduled to hold talks with Chancellor Alfred Gusenbauer and Austrian businesspeople.
Approximately 60 members of Austria's Chechen community gathered near the office of the Austrian president to protest Putin's visit.
Approximately 1,000 police officers on duty in Vienna to provide security for the visit, which concludes May 24.
(Interfax, AFP)
Islam In The North Caucasus
Islam In The North Caucasus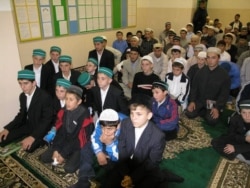 Madrasah students in Khasavyurt, Daghestan (RFE/RL file photo)
SIMMERING TENSIONS: Fatima Tlisova, former North Caucasus editor for the Regnum news agency and a former North Caucasus-based freelancer for RFE/RL, AP, and others, told an RFE/RL briefing that the Russian government is cracking down hard on mosques and Islamic organizations throughout the region.
LISTEN
Listen to the entire briefing (about 70 minutes):

Real Audio
Windows Media
RELATED ARTICLES
Filmmaker Documents Chechen Villagers' Sad Fate
Rights Activist Discusses Difficulties Of Working In Chechnya
Ministry Admits Chechen Resistance Still Poses 'Serious Threat'


RFE/RL's complete coverage of Russia's war-torn Republic of Chechnya.
CHRONOLOGY
An
annotated timeline
of the Chechnya conflict.