Prime Minister Almazbek Atambayev today said the military agreement with the United States over the air base is "tricky and almost impossible to cancel."
Kyrgyz parliamentarians have urged the government to evict the U.S. troops from the base.
Some 1,000 U.S. troops are stationed at the airbase, which was established 2001 to support the military campaign in Afghanistan.
A number of issues have marred Kyrgyz-U.S. relations over the base, including a shooting at the base in December 2006 that killed a Kyrgyz citizen, a collision that damaged a Kyrgyz aircraft, Kyrgyz complaints that the base damages the environment, and, most recently, suggestions that the base could be used to stage a military strike.
(ITAR-TASS, Interfax)
Turmoil In Kyrgyzstan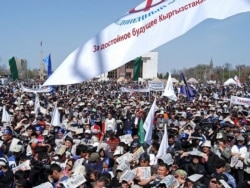 Opposition protests in Bishkek on April 11 (TASS)

TAKING TO THE STREETS. Edil Baisalov, president of the largest grassroots network in Kyrgyzstan, discussed the political turmoil in Kyrgyzstan at an RFE/RL briefing in Washington. He addressed the question of whether the unrest is a healthy democratic process or a bid to derail the country's fragile democratic transition.
LISTEN
Listen to the entire briefing (about 70 minutes):

Real Audio
Windows Media
RELATED ARTICLES
Protests Gain Steam Ahead Of Major Antigovernment Rally
Political Future Uncertain As Premier Steps Down
Revolution Anniversary Highlights Political Failures
Aksy Commemoration A Key Test For Bakiev
ARCHIVE
RFE/RL's coverage of
Kyrgyzstan
. The Kyrgyz-language website of
RFE/RL's Kyrgyz Service
.
SUBSCRIBE
For regular news and analysis on all five Central Asian countries by e-mail,
subscribe to "RFE/RL Central Asia Report."