Kyrgyzstan Says It Gets $17 Million Rent For U.S. Base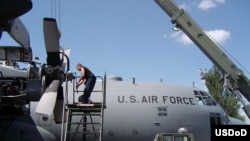 U.S. facilities at Manas Airport (file photo) (USDoD) BISHKEK, February 13, 2007 -- Kyrgyz Finance Minister Akylbek Japarov today said Kyrgyzstan gets $17.4 million from the United States annually for the rent of a U.S. air base, RFE/RL's Kyrgyz Service reported.
Japarov told parliament that until 2006, Kyrgyzstan had not been receiving any money from the United States for the lease of the base at Manas Airport, outside Bishkek.
President Kurmanbek Bakiev had asked for $200 million.
(with additional reporting by 24.kg)