U.S. Military Repeats Defense Of Soldier In Kyrgyz Shooting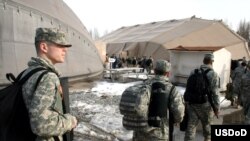 U.S. troops in file photo at Manas air base (USDoD) December 8, 2006 (RFE/RL) -- The command of a U.S. air base in Kyrgyzstan has repeated its assertion that the U.S. soldier who killed a Kyrgyz civilian at the gates of the facility on December 6 acted in self-defense.
The base confirmed in a statement that the victim, an ethnic Russian identified as Aleksandr Ivanov, was the driver of a truck operated by a local fuel company.
It said the soldier shot the man twice in the chest after being "physically threatened" with a knife.
The U.S. military says the serviceman has been removed from duty while it investigates the incident jointly with Kyrgyz authorities.
The Kyrgyz Foreign Ministry demanded on December 7 that the immunity of the U.S. soldier be lifted.
President Kurmanbek Bakiev, who discussed the incident with U.S. Ambassador Marie Yovanovitch, said he thought the U.S. serviceman should answer for any wrongdoing in Kyrgyz courts.
The Ata Meken opposition party today backed Bakiev's remarks.
The U.S. military has been renting the facilities, at Manas Airport, from the Kyrgyz government since 2001 for operations in nearby Afghanistan.
(manas.afnews.af.mil, AKIpress, 24.kg)
RFE/RL Central Asia Report

SUBSCRIBE For regular news and analysis on all five Central Asian countries by e-mail,
subscribe to "RFE/RL Central Asia Report."