Metzger serves at the U.S. airbase at Manas International Airport outside Bishkek, which is used as a resupply base for the U.S.-led coalition operations in Afghanistan.
The details of her disappearance are still being put together today. Metzger vanished during a trip to downtown Bishkek, where she was shopping for souvenirs.
The U.S. military at the Manas air base is confining its comments to welcoming news of Metzger's safe return.
"The US. Air force major missing in Kyrgyzstan since Tuesday has been found alive by Kyrgyz law enforcement officials," military spokeswoman Captain Anna Carpenter told RFE/RL's Kyrgyz Service. "At 1:15 a.m., local police notified the U.S. Embassy and military officials that Major Jill Metzger had been found."
Taken To Kant?
The Kyrgyz information agency 24.kg is reporting that Metzger unexpectedly appeared at the home of Svetlana Ivashchenko, a resident of the town of Kant, some 40 kilometers from Bishkek, at around 11 p.m. on September 8. Ivashchenko, unable to understand what the English-speaking foreigner wanted, called police who arrived and quickly understood this was the missing U.S. servicewoman.
Police then informed the U.S. Embassy and the U.S. base at Manas Airport that the missing servicewoman was alive and well.
U.S. military spokeswoman Carpenter told RFE/RL's Kyrgyz Service that the U.S. military thanked all those involved in the search for Metzger.
"We are delighted to have Jill back with us," Carpenter said. "I want to praise the Kyrgyz government, Bishkek law enforcement officials, and the cooperation of the U.S. Embassy team for a rapid and thorough investigation resulting in the successful recovery of Major Metzger."
Questions Remain
Many questions still remain about Metzger's disappearance. 24.kg reports, citing sources in the Interior Ministry, that Metzger says she was shopping when two women approached her and asked, in English, for help.
According to 24.kg, Metzger left the shopping center with the two women and then was forced into a minivan and taken to a rural area some 50 kilometers away from Bishkek, near the town of Kant.
Kant is the location of a Russian-led CIS antiterrorism base. 24.kg reports Metzger told Interior Ministry investigators that she does not remember much of what happened after she left the Bishkek shopping center.
It is also unclear how she managed to escape.
Bishkek police have declined to comment on the case.
Military Bases In Central Asia
Military Bases In Central Asia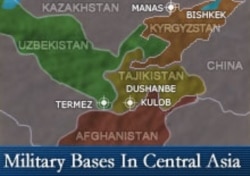 Click on the map for an enlarged image.

PROJECTING POWER: Since the collapse of the Soviet Union and the onset of the war on terror, Central Asia has played an important role in military-security issues. At times, Russia and the West have clashed over questions related to military deployments. RFE/RL has provided extensive coverage of this increasingly important geopolitical matter.
RELATED ARTICLES
U.S. Official Discusses Policy In Central Asia
Kazakhstan Looks To Build On Alliance With Putin
The Geopolitical Game In Central Asia
Dushanbe Conference Focuses On Regional Security
Russia And U.S. Often At Odds In Central Asia
China-Russia Bloc Challenges U.S. In Region


THE COMPLETE STORY: Click on the icon to view a dedicated webpage bringing together all of RFE/RL's coverage of Kazakhstan, Kyrgyzstan, Tajikistan, Turkmenistan, and Uzbekistan.