Kyrgyzstan deported two U.S. Embassy employees on July 12, charging that they had engaged in activities incompatible with their diplomatic status.
The United States retaliated on August 2 by declaring two Washington-based Kyrgyz diplomats persona non grata.
Both men said the expulsions should not affect bilateral ties.
Boucher said he was in Bishkek to discuss "a great many areas and issues," including a recent agreement to prolong the lease of a military airbase the Pentagon has been using for operations in nearby Afghanistan.
The agreement to prolong the lease of the Manas airbase was reached on July 14, following a long price dispute.
Under the new deal, the United States reportedly agreed to pay $20 million a year for the use of the base, up from $2 million under the previous agreement.
Boucher later met with Prime Minister Feliks Kulov. He is scheduled to hold talks with President Kurmanbek Bakiev on August 11.

Military Bases In Central Asia
Military Bases In Central Asia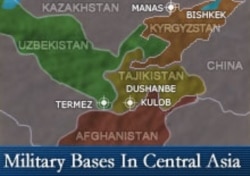 Click on the map for an enlarged image.

PROJECTING POWER: Since the collapse of the Soviet Union and the onset of the war on terror, Central Asia has played an important role in military-security issues. At times, Russia and the West have clashed over questions related to military deployments. RFE/RL has provided extensive coverage of this increasingly important geopolitical matter.
RELATED ARTICLES
U.S. Official Discusses Policy In Central Asia
Kazakhstan Looks To Build On Alliance With Putin
The Geopolitical Game In Central Asia
Dushanbe Conference Focuses On Regional Security
Russia And U.S. Often At Odds In Central Asia
China-Russia Bloc Challenges U.S. In Region


THE COMPLETE STORY: Click on the icon to view a dedicated webpage bringing together all of RFE/RL's coverage of Kazakhstan, Kyrgyzstan, Tajikistan, Turkmenistan, and Uzbekistan.