The following was written by Halmyrat Gylychdurdy, an RFE/RL Turkmen Service correspondent in the Turkmen capital, Ashgabat. RFE/RL correspondents have experienced widespread harassment, threats, detentions, and jail terms since Turkmenistan gained independence in 1991. One correspondent,Ogulsapar Muradov, died in unexplained circumstances last year while jailed in Turkmenistan.
ASHGABAT, May 25, 2007 (RFE/RL) -- I had surgery on my eye at the end of July 2004. The patch was removed from my eye the following day. While I was leaving the hospital, employees of the National Security Ministry forced me into a car and drove off.
I was locked in a prison cell for four days, and was interrogated several times each day. They accused me of reporting for Radio Free Europe/Radio Liberty, and they demanded I sign a letter admitting that I was a traitor to the motherland. I did not sign it.
"Since the security service is capable of exerting so much pressure on the police, they have no choice but to obey."
​Traitorous Behavior?
"If you don't sign, we will take your house away from you, send your children off into the desert, and sentence you to 20 years in prison," they said. I replied, "If the law permits you to do these things, then do as you wish."
They brought that letter to me, changed it three or four times each day, but I still refused to sign it. I began a hunger strike the day I was put in prison. I had no idea how many days I would be kept there. Night and day they were asking me difficult questions. But I would not give them the answers they wanted.
In the hope that they would give me the eyedrops I needed after my surgery, I gave them the doctor's prescription. They took it from me, but did not pass it on to my children. They did not even tell my children where I was. When my children asked about me the authorities said they didn't have me.
During my fourth night of captivity they put me in a car and drove me home. On the way home they suggested that I not tell anyone how I was pressured, if I was to be asked by someone in Prague or London.
When I came home my daughter Oguljennet was crying. I asked why and she said: "I was fired from my job because they said that my father works for Azatlyk [Radio Free Europe/Radio Liberty]."
After that Oguljennet looked hard for another job, but no one would hire her. One month passed. Then the Sixth Department of the Internal Affairs Ministry invited Oguljennet for an interview, saying that they might have a job for her. When she went there they informed her that a criminal case had been opened against her. An employee from the Sixth Department demanded that Oguljennet write a letter saying that her father is a traitor of the motherland. Oguljennet refused.
Family Harassment
That Sixth Department employee then called and ordered the officials with Oguljennet to take her to prison. When told about this, Oguljennet asked, "According to what article of the law am I to be put in prison?"
"I'll discuss that with my boss right now," an official answered. Oguljennet took this opportunity to escape the office, and ran outside where she saw me on the sidewalk. I immediately took her home by taxi.
Less than an hour later the complaining employee from the Sixth Department was at our home. "You don't need to open a criminal case against Oguljennet because of me," I told him. "Take me away instead."
He then left without saying a word. Since my daughter could not find work anywhere, she entered a school to study English for a year. I was able to speak with the U.S. ambassador and my daughter was eventually hired by the American Embassy, where she still works.
In March of this year Oguljennet got sick, and I wanted to send her to Moscow for treatment. However, her name is on a black list, and the authorities did not allow her to leave for Moscow, intervening at the Ashgabat airport.
Doctors in Ashgabat are afraid to treat her. They have likely been threatened by employees of the security service. The U.S. Embassy has sent a request to the Foreign Ministry asking for permission for Oguljennet to leave the country for medical treatment in Moscow. There still has not been a response.
We were recently planning the wedding of my son, Kakamyrat. Once time Kakamyrat and his fiancee were visiting a friend and some security service officers came to the house and forced them into a car and took them to the police station. The officers told the friend that they had been following my son and his fiancee for two months.
The couple was kept at the police station for nearly eight hours, only being released at 11 pm. Kakamyrat and his fiancee were each told to pay 3 million manat (about $577 at the official exchange rate) through an administrative court for being morally corrupt.
When they were first brought before the court, the judge asked the attending policeman: "Did you finish all your other work? Don't you have anything better to do than this?" The policeman was ashamed and didn't know how to answer. Since the security service is capable of exerting so much pressure on the police, they have no choice but to obey.
Although administrative measures had been taken against Kakamyrat and his fiancee, judge Arslan Charyyarov called them in once again and began asking them questions. He asked them why they were going to visit that friend and with what intentions.
Judge Charyyarov also threatened them with jail time. He then warned them not to do the same thing again or he would jail them. The couple did not understand -- at first -- why they were being harassed.
Later, when my future daughter-in-law found out that I worked for Azatlyk Radio, she was somewhat relieved. Her relatives also understood then that the reason our family was being harassed was because of my affiliation with Azatlyk Radio.
Currently things are calm. But I do not know why. We anticipate some similar type of repressive behavior from Turkmen authorities, and we are ready to fight.
Human Rights In Turkmenistan
Human Rights In Turkmenistan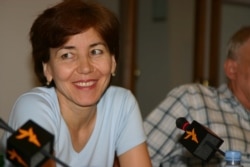 Tajigul Begmedova speaking at RFE/RL in Prague on July 21 (RFE/RL)
LIFE UNDER NIYAZOV:
On July 21, RFE/RL's Prague broadcasting center hosted a presentation by
TAJIGUL BEGMEDOVA,
chairwoman of the Bulgaria-based Turkmenistan Helsinki Foundation for Human Rights (THF). Begmedova discussed the human rights situation in Turkmenistan under President Saparmural Niyazov, focusing on the arrests in June of THF activists and RFE/RL Turkmen Service correspondent Ogulsapar Muradova. Begmedova, who graduated from the Institute of Economy in Moscow in 1987, fled Turkmenistan in 2002 and lives in exile in Sofia.
LISTEN
Listen to the complete presentation (36 minutes; presentation in Russian with consecutive translation into English):

Real Audio
Windows Media
Some RFE/RL Coverage Of Human Rights In Turkmenistan:
Media Coverage Of Leader Distracts From Real Problems
Authorities Cast Wide Net In Conspiracy Allegations
Embattled Turkmen Writer Honored Abroad
RFE/RL Correspondent Recounts Arrest
ARCHIVE
RFE/RL coverage of Turkmenistan.


THE COMPLETE STORY: Click on the icon to view a dedicated webpage bringing together all of RFE/RL's coverage of Kazakhstan, Kyrgyzstan, Tajikistan, Turkmenistan, and Uzbekistan.