Spokesman Sheikh Salah al-Obeidi, briefing reporters after the conference in Al-Najaf, said the meeting was designed to push al-Sadr's plan to create a more positive public face for his movement.
The spokesman said "the Sadr movement is going to appear in a new form and with a new style on the Iraqi scene."
Meanwhle, one of Iraq's most powerful Shi'ite politicians, Abd al-Aziz al-Hakim, has left a Tehran hospital, where he was being treated for lung cancer.
The Supreme Iraqi Islamic Council (SIIC), one of the main Shi'ite parties in the Baghdad government, said he left hospital May 26 after receiving treatment. He is now at his residence in Tehran, where he is resting.
The SIIC was until recently known as the Supreme Council for the Islamic Revolution in Iraq, or SCIRI.
(AFP)
Searching For A Way Forward
Searching For A Way Forward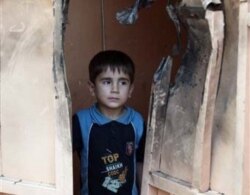 A boy looks out from his Baghdad home (AFP)
LOOKING BEYOND AL-MALIKI: RFE/RL Iraq analyst Kathleen Ridolfo led an RFE/RL briefing about the changing political landscape in Iraq, focusing on efforts to gain the upper hand in the event that the government of Prime Minister Nuri al-Maliki falls.
LISTEN
Listen to the entire briefing (about 70 minutes):

Real Audio
Windows Media
RELATED ARTICLES
Opposition Appears Set On Bringing Down Al-Maliki
Former Premier Pushing New Plan For Reconciliation
Al-Sadr Prepares For Post-Coalition Era
Sunni Ultimatum Rocks Al-Maliki's Position


THE COMPLETE STORY: RFE/RL's complete coverage of events in Iraq and that country's ongoing transition.