In his first public appearance since the start of a major U.S.-backed security crackdown in Iraq in February, he called for national unity and the withdrawal from Iraq of U.S. troops.
"I renew my demand for the withdrawal of the occupier or to have a timetable for [ending] its occupation, and I demand that the Iraqi government not allow the extension of occupation, even for one day, because [the government] is not authorized by the public to do that," he said.
The U.S. military has said al-Sadr went into hiding in Iran in January to escape the crackdown, but aides to the cleric say he never left Al-Kufah. Al-Sadr's militia, the Imam Al-Mahdi Army, has also taken a relatively low profile in recent months.
Al-Sadr led two uprisings against U.S. forces in 2004.
In Washington today, White House spokesman Gordon Johndroe said the United States hopes al-Sadr "will play a useful and positive role in the development of Iraq" after "four months in Iran."

Meanwhile in Al-Basrah today, the British military announced that it has killed Al-Mahdi Army commander Usama Abu Qadir.

(compiled from agency reports)
Muqtada Al-Sadr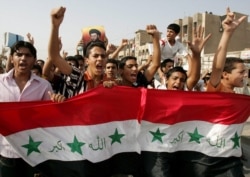 Al-Sadr supporters demonstrating against the U.S. presence in Iraq in October 2006 (epa)

A RADICAL CLERIC. Shi'ite cleric Muqtada al-Sadr is a key figure in Iraq. He heads the Imam Al-Mahdi Army militia and a political bloc that is prominent in parliament and the government. His ties to Iran have also provoked concerns in some quarters.
RELATED ARTICLES
Cracking Down On Al-Sadr No Easy Task
Political Parties Consider Uniting Against Al-Sadr
Is Al-Sadr Stirring The Pot Or Promoting Peace?
Radical Shi'ite Cleric Calls For Shi'ite-Sunni Unity
Al-Sadr Reasserts Himself -- This Time Against Coreligionists