Members of the Belarusian opposition, meeting at an opposition congress held on May 26-27 at the culture palace of the Minsk Automotive Factory, voted to replace Milinkevich with four coleaders who will serve on a rotating basis.
Milinkevich challenged President Alyaksandr Lukashenka in last year's presidential election, and led opposition protests following that vote. But his speech at the Minsk congress on May 27 did little to convince the 600 opposition delegates that they should rally behind him.
"My position is as follows: It is possible for us to unite seriously if we determine several values. I say it once again -- values," Milinkevich told the opposition congress. "It is impossible to unite seriously just against one person. I propose very simple values for those who support me. I hope that all of you share them as well. These values are democracy, independence, and integration with Europe. It is very important."
"He was the only opposition leader who said that 'our main goal is to integrate with Europe.'"
The congress vote highlights the divisions in Belarus's fractious opposition.
Milinkevich has called the system of rotating opposition leader "weak and inefficient."
Other opposition figures have defended the system, saying it will allow each of the coleaders to focus on different areas, for instance international relations.
A Radical Figure?
Milinkevich supporters regard him in the same vein as leaders such as Georgian President Mikheil Saakashvili, who came to power during that country's 2003 Rose Revolution.
RFE/RL's Belarus analyst Jan Maksymiuk says that Milinkevich was supported by many younger opposition supporters.
"Milinkevich is seen as a more radical figure than the other opposition leaders. But Milinkevich does not believe any dialogue is possible with the authorities, and he puts stress on civil-disobedience actions, [and] on street demonstrations," Maksymiuk said. "And he was actually the only opposition leader who said that 'our main goal is to integrate with Europe.'"
Milinkevich was elected as the unified opposition's presidential candidate in October 2005.
He was defeated in a landslide by incumbent Lukashenka in the March 2006 presidential election, and led street protests after the vote. The European Union, the United States, and the OSCE condemned the election, in which many opposition activists were arrested, as unfair.
Milinkevich became widely known in the West as the face of the Belarusian opposition.
After this weekend's vote, Milinkevich says he plans to form a new "movement."
Meanwhile, the opposition coalition has approved a new strategy that supports dialogue with the authorities, rather than civil disobedience.
One of the four new co-leaders of the opposition coalition, Sergei Kalyakin, said "we must unite not around an individual but around the idea of change."

Politics In Belarus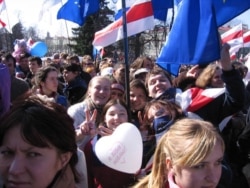 Demonstrators in Minsk on March 25 (RFE/RL)

WHAT HAPPENED? Belarus scholar Vitali Silitski and RFE/RL Belarus analyst Jan Maksymiuk took a look a how Belarus has changed since mass demonstrations in Minsk in March 2006 failed to produce meaningful change in that country.
LISTEN
Listen to the entire briefing (about 70 minutes):

Real Audio
Windows Media
RELATED ARTICLES
Has Regime Adopted New Tactics Toward Opposition?
Lukashenka Is Firmly In His Saddle, Despite A Bumpier Road
Why Can't Belarus's Opposition Just Get Along?
SUBSCRIBE
For weekly news and analysis on Belarus, Ukraine, and Moldova by e-mail,
subscribe to "RFE/RL Belarus, Ukraine, And Moldova Report."