Bosnia entered the race at the last minute, reportedly persuaded by Western governments alarmed at the prospect of Belarus being elected to the council.
In the vote on May 17, Slovenia was elected with 188 votes in the first round in the 192-member General Assembly. In the second round of voting, Bosnia beat Belarus by 112 to 72 votes.
U.S. Ambassador to the United Nations Zalmay Khalilzad spoke on May 17 to journalists at the UN in New York after the vote in the General Assembly.
"We were particularly concerned about Belarus [being elected a member of the Human Rights Council]. Some have called it the last dictatorship in Europe," Khalilzad said.
Poor Rights Record
Belarus has been routinely criticized for its human rights record, under autocratic President Alyaksandr Lukashenka. Critics charge that Lukashenka's regime has falsified elections, imprisoned opposition activists, and curtailed free media.
The United States and the European Union have placed travel sanctions on the president and other senior officials.
"The council is a bit of a joke. It would be the stuff of perfect comedy, if it weren't so tragic."
Former Belarusian Ambassador to the UN Henadz Buraukin said he understands the logic of Belarus attempting to get a seat on the council.
"Why did Minsk choose this council to try to get a seat on? I think they chose it so they could say to [critics of Belarus], 'You criticize us for our human rights record, but we have now been included on the UN Human Rights Council,'" Buraukin said.
Before Bosnia entered the race, only Belarus and Slovenia were contesting the two seats. The distinct possibility that Belarus could have been elected to the council prompted an outcry from many human rights groups.
NGO Lobbying
A number of rights groups, including U.S.-based Freedom House and Human Rights Watch, appealed to the General Assembly to reject Belarus's bid.
Hillel Neuer, the executive director of the Geneva-based UN Watch, a group that monitors the performance of the United Nations, said his group tried to convince governments that human rights abusers should not have a role on the rights council.
"We said [to governments] that Belarus is a government that refuses to cooperate with the Human Rights Council's own investigator on Belarus. How can you run for a seat on a body with which you refuse to cooperate with their simple requests?" Neuer said.
But Neuer said that Belarus failing to get elected to the council is only a partial victory. Of concern, he says, is the successful election to the council of Egypt, Angola, and Qatar -- countries he says have poor records on human rights.
The UN Human Rights Council was created in March 2006 to replace the UN Human Rights Commission.
The commission had been discredited because some countries with poor rights records had used their membership to protect one another from condemnation.
But the new council has also come in for criticism, most recently when it decided in March to end scrutiny of Iran and Uzbekistan.
Neuer said that not that much has changed from the old human rights commission. He says countries still vote to protect each other.
"The council is a bit of a joke. It would be the stuff of perfect comedy, if it weren't so tragic," Neuer said.
"When it was inaugurated last year, the new council was supposed to be a reform of the discredited commission. It was supposed to, I'm quoting now the High Commissioner for Human Rights Louise Arbour, who hailed it as the 'dawn of a new era.' Well, 12 months later not a single human rights abuse in any of the worst abusers, listed by Freedom House for example, the 19 countries that are the worst abusers, not a single one has been addressed."
All of the 47 members on the Geneva-based council have now been elected.
UN Human Rights Council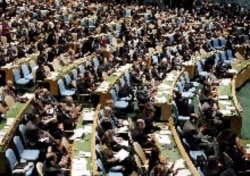 UN General Assembly delegates applaud the creation of the UN Human Rights Council on March 15, 2006 (epa)
A FRESH START ON HUMAN RIGHTS: The United Nations General Assembly on May 9 elected members to its new Human Rights Council, a step that reformers hope will help improve the United Nations' sullied record on defending human rights. The UN's old human rights watchdog -- the Commission on Human Rights -- had long been criticized for granting membership to countries with dismal human rights records, such as Cuba, Sudan and Zimbabwe.
Every member of the new body has to pledge to promote human rights. (more)
RELATED ARTICLES
General Assembly Votes To Create New Rights Council
Vote On Human Rights Council In Limbo Over U.S. Objections
At 60, UN Gripped By Debate on Human Rights Reform
SUBSCRIBE
For a regular review of civil-society developments throughout RFE/RL's broadcast region,
subscribe to "RFE/RL (Un)Civil Societies."