The council was established last year to replace the widely discredited UN Human Rights Commission, but the latest decision has raised unpleasant comparisons.
The Human Rights Commission was so discredited, in fact, that even UN Secretary-General Kofi Annan -- while still in office -- assailed its "declining credibility and professionalism."
The commission's main problem was that its members included some of the world's most notorious rights violators. Those states would often band together to block investigations into their own records -- or those of their allies.
Among the countries that abstained from voting against Tehran and Tashkent, according to Hicks, were Japan, South Korea, Brazil, and Switzerland.
More Of The Same?
The new UN Human Rights Council was supposed to be different.
Aaron Rhodes, executive director of the International Helsinki Federation For Human Rights, says the March 26 decision was "disastrous" and makes it clear that so far, the council has failed in its stated mission.
"What ought to be said is that this is a signal to countries that they have nothing to worry about from the Human Rights Council if they abuse their own citizens," Rhodes says.
The vote on Iran and Uzbekistan was conducted behind closed doors, so a complete details of what happened -- based on diplomatic sources -- has trickled out slowly.
But the picture that emerges is troubling. For one, says Rhodes, it appears the old way of doing business that so undermined the UN Human Rights Commission continues at the new council.
"The Human Rights Council is dominated by bloc voting," Rhodes says. "And what you find in this decision is the result of different regional blocs, the members of which are not considering the cases on their face value but are going along with political motives, which are thought to be consistent with the priorities and the needs of countries in those regions. It's a terrible failure of the Human Rights Council."
Diplomats have confirmed that the March 26 vote came at the recommendation of a five-member panel. Three of the five panel members -- Zimbabwe, Bangladesh, and Azerbaijan -- urged no scrutiny for Iran and Uzbekistan.
In an interview with RFE/RL, Azerbaijan's representative to the UN in Geneva, Elchin Amirbayov, downplayed his country's role, saying most council members agreed with Baku's recommendation.
Peggy Hicks, global advocacy director for Human Rights Watch, confirms that claim and says it makes things all the more disturbing.
"The council as a whole had an opportunity to review that recommendation and it met and made a decision about what to do about that recommendation," Hicks says. "And by a vote of more than 20 countries, as the Azerbaijani diplomat said, the council agreed to discontinue consideration. And of course that is itself a major question, because that group of more than 20 states includes a number of countries that you would have expected to do much better."
Among the countries that abstained from voting against Tehran and Tashkent, according to Hicks, were Japan, South Korea, Brazil, and Switzerland.
Zimbabwe Isn't Even A Council Member
Questions have been raised about why a country like Zimbabwe, with its abysmal rights record, played a leading role in the decision.
But when some of the world's established democracies also refuse to take action, rights activists say little hope is left.
Zimbabwe's case provides a graphic illustration of how the need for consensus at the UN can sometimes result in some bizarre decisions.
Zimbabwe is not even a member of the Human Rights Council. But, since it had a leadership role in the defunct Human Rights Commission, it was agreed that Zimbabwe should be allowed, temporarily, to continue its activities at the council.
Azerbaijan's Amirbayov says these are all teething problems that eventually will be overcome. And he argues that human rights, in any case, can be a subjective concept.
"Human rights as a concept itself is unfortunately a very much politicized matter," Amirbayov says. "And of course, one if the ideas when the council was created, was to make sure that all members are elected by two-thirds of the UN General Assembly membership. And that means more than 100 countries. If you consider that someone elected by more than 100 countries is a bad country or a good country, it's a very subjective view. And I think that what we have to do right now is to avoid dividing lines."
Calls For U.S. Involvement
Human rights organizations say avoiding dividing lines is the best way to ensure nothing gets done at the council, dooming it to the same fate as its predecessor.
The United States, which chose not to seek membership in the Human Rights Council, citing doubts over its effectiveness, now appears vindicated.
But most global rights organizations, including Human Rights Watch, would like Washington to stop sitting on the sidelines.
Hicks argues that the council's institutions are still being built. And at least on paper, the new UN body does have effective means to bring rights violators to account. Unlike at the old commission, cases can be taken up year-round and they can even be referred to the Security Council.
The attention and outrage the vote on Iran and Uzbekistan has garnered, she says, is a sign that the council's actions are being watched and that offers some hope for the future.
"We've called upon the United States to appoint a special envoy that would signal their commitment to building this institution into the human rights protecting institution that it needs to be," Hicks says. "I think it's really important to say that despite these big setbacks, there is an institution building process and the mandate that set up the council does provide the space for this to be a body that really does move forward and protect human rights better than the commission. And we're hoping, still, that through the institution building work that's being done, that this promise will ultimately be fulfilled."
(RFE/RL's Azerbaijani and Uzbek services contributed to this report)
UN Human Rights Council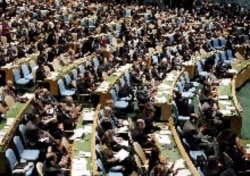 UN General Assembly delegates applaud the creation of the UN Human Rights Council on March 15, 2006 (epa)
A FRESH START ON HUMAN RIGHTS: The United Nations General Assembly on May 9 elected members to its new Human Rights Council, a step that reformers hope will help improve the United Nations' sullied record on defending human rights. The UN's old human rights watchdog -- the Commission on Human Rights -- had long been criticized for granting membership to countries with dismal human rights records, such as Cuba, Sudan and Zimbabwe.
Every member of the new body has to pledge to promote human rights. (more)
RELATED ARTICLES
General Assembly Votes To Create New Rights Council
Vote On Human Rights Council In Limbo Over U.S. Objections
At 60, UN Gripped By Debate on Human Rights Reform
SUBSCRIBE
For a regular review of civil-society developments throughout RFE/RL's broadcast region,
subscribe to "RFE/RL (Un)Civil Societies."