Shulzhytski faces trial on charges of using obscene language in public -- a common tactic of Belarusian authorities looking to prosecute political opponents of the ruling regime or people who are simply deemed officially objectionable.

Shulzhytski produced, and inserted into mailboxes, homemade advertisements featuring the radio frequencies and times of RFE/RL's Belarusian-language broadcasts.

Simple Trap

Shulzhytski also included his phone number on his ads, asking potential listeners to get in touch with him if they have problems tuning in to the broadcasts.

The telephone number, he told RFE/RL's Belarus Service, enabled police to lure him into a simple trap by pretending to need help with the broadcasts.

"They phoned me as I was going out for work, and I made an appointment with a man for 6 p.m. He gave me an address," Shulzhytski said. "I went to that address, and there at the very door, my district police officer and some other policemen were waiting for me."

At the police station the policemen drafted a protocol of detention, in which they charged Shulzhytski with swearing in public. He spent the night in custody and was asked to appear in court today.

RFE/RL President Jeffrey Gedmin condemned Shulzhytski's detention and the charges leveled against him

"This kind of development is deeply disturbing," Gedmin said. "I want to make very clear that Radio Free Europe/Radio Liberty supports the free citizens of Belarus and, in particular, the listeners of Radio Free Europe/Radio Liberty, who simply want to exercise the most basic of political rights and civil liberties. These people, these listeners, have our deepest respect, admiration and solidarity."


Shulzhytski told RFE/RL's Belarus Service that he was distributing the homemade RFE/RL ads because he wanted to inform people in his city about an alternative source of independent information.
"I simply don't see any other way in which people could obtain free information," he said. "I think [RFE/RL] is a fairly democratic media outlet, and it can successfully compete with the state propaganda."
During today's trial, Shulzhytski objected to the choice of presiding judge, Mikalay Shelyah. Shulzhytski accused Shelyah of issuing a number of politically motivated verdicts last year.
The trial was then adjourned for an indefinite period until another judge can be appointed. Shulzhytski was told to expect a new summons when that judge is named.
(RFE/RL's Belarus Service contributed to this report.)
ALYAKSANDR LUKASHENKA IN FOCUS
Europe's Lonely 'Last Dictator'

"This is not an era in which the European powers are willing to overlook human rights violations. He just stands out like a sore thumb in Europe," a leading analyst says.

more

Father Of His Country Or Fatherless Son?

Those seeking to understand Lukashenka's political behavior could get a good start by reading Gabriel Garcia Marquez's novel "The Autumn Of The Patriarch."

more

Going His Own Way

"Russia is trying to disregard the former Soviet republics, thinking they will remain hooked to the Russian Federation," Lukashenka said. "This is a misguided position."

more
Politics In Belarus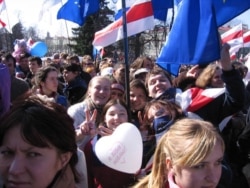 Demonstrators in Minsk on March 25 (RFE/RL)

WHAT HAPPENED? Belarus scholar Vitali Silitski and RFE/RL Belarus analyst Jan Maksymiuk took a look a how Belarus has changed since mass demonstrations in Minsk in March 2006 failed to produce meaningful change in that country.
LISTEN
Listen to the entire briefing (about 70 minutes):

Real Audio
Windows Media
RELATED ARTICLES
Has Regime Adopted New Tactics Toward Opposition?
Lukashenka Is Firmly In His Saddle, Despite A Bumpier Road
Why Can't Belarus's Opposition Just Get Along?
SUBSCRIBE
For weekly news and analysis on Belarus, Ukraine, and Moldova by e-mail,
subscribe to "RFE/RL Belarus, Ukraine, And Moldova Report."