Iraq Sentences Ex-Minister For Embezzlement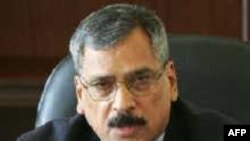 Hazim al-Sha'lan (file photo) (AFP) May 31, 2007 -- An Iraqi court has sentenced fugitive former Defense Minister Hazim al-Sha'lan to seven years in prison for embezzlement.
A government statement said the court will also freeze his assets.
Al-Sha'lan, who served as defense minister under former Prime Minister Iyad Allawi, was accused of embezzling more than $1 billion earmarked for weapons, along with scores of other officials.
(AFP)