U.S. President Signs $100 Billion War-Funding Bill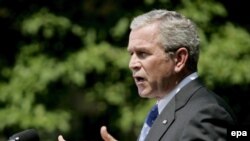 President Bush welcomed the "bipartisan effort" (file photo) (epa) May 26, 2007 -- U.S. President George W. Bush has signed into law a bill that provides $100 billion to fund the wars in Iraq and Afghanistan until the end of September.
The bill was passed by the Senate and House of Representatives after opposition antiwar Democrats abandoned efforts to include in the legislation a timetable for the withdrawal of U.S. troops from Iraq.
The Democrats were unable to raise the two-thirds majority necessary to override Bush's veto threat.
For his part, Bush applauded the "bipartisan effort to get a emergency supplemental
bill to my desk" before the Memorial Day holiday on May 28.

(compiled from agency reports)