NATO and coalition troops are claiming to be eliminating big numbers of Taliban fighters. But that comes at a high cost in Afghan civilian lives, and this loss of life is becoming a political question, both in Afghanistan and in the NATO alliance.
The meeting comes at a moment when the situation in Afghanistan is becoming increasingly complicated.
The success of NATO and the U.S.-led coalition forces in eliminating large numbers of Taliban fighters, mainly in southern Afghanistan, is being undermined by the rising tide of civilian casualties.
The resentment this causes among Afghans poses a threat to both the stability of the Afghan government of President Hamid Karzai and eventually to the deployment of foreign troops.
Mounting Frustration
Anti-Karzai demonstrations have already taken place, and the president has issued a strongly worded call to NATO to be more careful in their targeting.
"We can no longer accept these [civilian] casualties," Karzai warned on May 2. "The Afghan nation has the right to complain. The Afghan nation should first complain to its government, because it's our duty. I'm busy dealing with it on a daily basis."
White House spokesman Tony Fratto calls such losses "tragic." But he says the Taliban are deliberately seeking high civilian casualties by placing their forces amid Afghan civilians. When NATO or coalition troops call up air support during a firefight with the Taliban, the bombed Taliban positions are often found to contain civilians, including families.
The scale of the problem is causing unease among some of the NATO allies with troops in Afghanistan. In an attempt to get to grips with the issue, NATO's top military commander in Afghanistan, U.S. General John Craddock, says a review is under way of how the troops apply the "rules of engagement" -- that is, the circumstances in which the troops can start shooting.
Craddock's comment in Washington on May 18 came only days after German Defense Minister Franz Josef Kung called for a review, saying that NATO operations cannot continue their current course because it risks putting "the local population against" international goals.
'Two Choices'
The dilemma is how to continue effective military operations against the Taliban while cutting noncombatant losses. U.S. Major Chris Belcher makes clear in remarks to Radio Free Afghanistan that there can be no hiding place for insurgents.
"The Taliban have two choices: to stop fighting and join the government in bringing democracy to the people of Afghanistan, or the Afghan national military forces, and the coalition forces, will continue to pursue you, wherever you are in Afghanistan," Belcher says.
Meanwhile, the Taliban's use of suicide bombers in Afghanistan continues to increase. Three German soldiers were among the 23 people killed by suicide bombers on May 19 and 20 in blasts in different areas of the country.
The worst bombing came in Gardez, in Paktiya Province, where 14 people died.
Paktiya police chief Abdul Rahman Sargan says it was obviously aimed at causing the largest loss of civilian life possible: "This cruel bomber blew himself up in a busy market where people were busy going about their business. Many civilians were martyred and wounded. We are carrying the bodies and the wounded people to the hospital where they are receiving treatment."
In addition to talking about Afghanistan, Bush and de Hoop Scheffer are expected to discuss the status of Kosovo in the Balkans, the enlargement of NATO, and controversial American plans for a missile-defense system based in Eastern Europe.
The Afghan Insurgency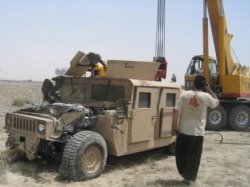 A U.S. military vehicle damaged by insurgents near Kandahar (epa)
HOMEGROWN OR IMPORTED? As attacks against Afghan and international forces continue relentlessly, RFE/RL hosted a briefing to discuss the nature of the Afghan insurgency. The discussion featured Marvin Weinbaum, professor emeritus of political science at the University of Illinois at Urbana-Champaign, and RFE/RL Afghanistan analyst Amin Tarzi.
LISTEN
Listen to the entire briefing (about 83 minutes):
Real Audio
Windows Media
ARCHIVE
RFE/RL's
coverage of Afghanistan
.
SUBSCRIBE
For weekly news and analysis on Afghanistan by e-mail,
subscribe to "RFE/RL Afghanistan Report."