Police Arrest Seven In Kosovo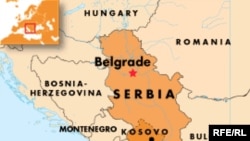 (RFE/RL) May 31, 2007 -- Police in Serbia's Kosovo province have arrested seven suspects and raided several houses as part of an organized-crime investigation involving one of the province's banks.
Police spokesman Veton Elshani says the suspects -- some former members of the Bank for Business board of directors and its clients -- are suspected of making harmful deals and misusing authorizations.
The alleged misuse of funds cost the bank over $13.4 million in losses.
(AP)