Russia last month said Moscow will suspend compliance with the Conventional Forces in Europe treaty, and has hinted it might withdraw from another treaty limiting nuclear arms.
Generally sour ties between the United States and Russia have prompted talk of a new Cold War for some time, so perhaps talk of a new arms race is inevitable.
But Duncan Lennox, the editor of "Jane's Strategic Weapons Systems," says an arms race is not realistic.
"I think this is just a continuation of the process that has been in place for many years between the Russian Federation and the United States," Lennox says.
Pavel Felgenhauer, an independent Moscow-based military analyst, says that during the Cold War, it was a race between two more or less equal blocs. That, he says, is not the case now.
"Right now, Russia is much smaller than the Soviet Union. It doesn't have the Warsaw Pact. It doesn't have the capabilities to race the West, which has almost eight times more population, and whose economy is 100 times bigger," Felgenhauer says.
Aging Arsenal
Since Russian President Vladimir Putin came to power in 2000, defense spending in the country has increased fourfold. An ambitious strategy to modernize the military was announced last year, and Russia spent $8.8 billion to upgrade its military equipment. That figure is likely to be higher in 2007.
Felgenhauer says the latest Russian plans are to deploy, by 2015, 100 new land-based ICBMs. But he says that more than 400 old missiles are going to be scrapped, many of them carrying more warheads.
"The disarmament of Russia is basically continuing. We're losing more weapons than we are producing new ones."
"The Russian plans of military deployment that have already been announced and approved up until the year 2015 do not talk about an arms race, but of more of a organized and controlled disarmament. The disarmament of Russia is basically continuing. We're losing more weapons than we are producing new ones," Felgenhauer says.
The talk of a new arms race might be premature. But it is unsurprising, perhaps, given the weight of history.
Star Wars
It was the policies of U.S. President Ronald Reagan, who attempted to intensify the arms race with the Strategic Defense Initiative program in the 1980s, which hastened the demise and eventual breakup of the Soviet Union.
The troubled Soviet economy tried, but could not keep up with U.S. defense spending. In the end, Reagan's program, known commonly as "Star Wars," was never deployed or developed.
Now, the United States plans to deploy parts of an antimissile system in Central Europe.
The missiles in Poland and radar in the Czech Republic are part of a National Missile Defense program meant to protect North America and Europe. Some have dubbed the system "son of Star Wars."
Moscow has criticized the plan, saying the Central European structures are directed against Russia and see it as a U.S. ploy to begin a new arms race.
The United States, for its part, has denied that the shield is directed against Russia and has said that the shield is intended to defend against threats from "rogue states" like North Korea and Iran.
U.S. Ambassador to NATO Victoria Nuland, speaking today to RFE/RL in Prague, denied Russian allegations that the United States intends to start a new arms race.
"We just find it ludicrous, frankly. President Bush and President Putin presided over one of the deepest cuts in strategic weaponry for both sides, Moscow and Washington, in history. That should be the legacy of these two guys. That is the legacy that my president believes in for their time in office," Nuland said.
Domestic Opposition
The missile shield also faces opposition in the U.S. Congress.
Some experts and politicians in the United States have questioned the effectiveness of the antimissile system's technology and the impact it could have on the United States' relations with Europe.
Currently, the Democratic-contolled Congress is considering cutting the Pentagon's request for $310 million to begin developing the program.
Russia also has its own domestic concerns. Analysts say that in Russia, talk of a new Cold War or a new arms race is primarily aimed at a domestic audience -- in a year that will see Russian parliamentary elections and the run-up to the presidential election in March 2008.
Military analyst Aleksandr Golts says Kremlin officials want to show that Russia is a superpower once again.
"They want to show that it can still compete with the United States in this field. But no one takes such possibilities seriously. It's all PR and propaganda, I think," Golts says.
Bush and Putin will have opportunities to smooth out differences between Russia and the United States. First, at the G8 summit in Germany next week and then on July 1-2 in Kennebunkport, Maine, where the Bush family has a oceanside residence.
Conventional Forces In Europe
Conventional Forces In Europe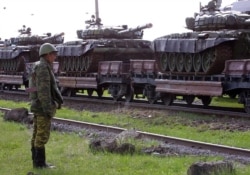 A Russian soldier watching Russian armaments leave Georgia in 2006 (epa)


AGREEMENTS ON CONVENTIONAL FORCES IN EUROPE. The CFE treaty is an arms-control agreement originally negotiated between NATO and the Warsaw Pact as a guarantor of European security in Europe in the waning days of the Cold War.

The original CFE Treaty took 10 years to negotiate, was signed by 30 states ** in November 1990, and came in to force in 1992. Its aim: to reduce stockpiles of conventional armaments between the Atlantic Ocean and the Ural mountains.
The blocs limited themselves to:
20,000 tanks
20,000 artillery pieces
30,000 armored combat vehicles
6,800 combat aircraft
2,000 attack helicopters

The CFE-1A, a 1992 addendum, has resulted in the withdrawal of more than 700,000 troops from Europe since 2001 and the destruction of 50,000 pieces of military equipment by 1995.
The CFE-II, negotiated in Istanbul in 1999, reflected the new, post-Soviet landscape by setting arms limits for individual countries, rather than zones. The agreement aided NATO's expansion efforts by allowing signatory states to allow foreign forces on their soil.
NATO states have not ratified the CFE-II due to concerns over Russia's failure to comply with commitments it made during the negotiations. Under the Istanbul Accords, Russia pledged to set a timetable for closing its remaining military bases in Georgia and to completely withdraw its forces from Moldova.
The CFE-II will come into force once ratified by all 30 CFE signatories. Thus far only Belarus, Kazakhstan, Russia, and Ukraine have ratified the CFE-II.
In ratifying the agreement in June 2004, Russia called on the signatories not to delay in ratifying the document. Russia expressed concern that Lithuania, Estonia, and Latvia, as nonmembers of the treaty, could possibly harbor NATO troops near its western border.
(** Armenia, Azerbaijan, Belarus, Belgium, Bulgaria, Canada, Czech Republic, Denmark, France, Georgia, Germany, Greece, Hungary, Iceland, Italy, Kazakhstan, Luxembourg, Moldova, the Netherlands, Norway, Poland, Portugal, Romania, Russia, Slovak Republic, Spain, Turkey, Ukraine, the United Kingdom, and the United States. )