First Deputy Prime Minister Sergei Ivanov said that the intercontinental ballistic missile (ICBM) it fired could penetrate any missile-defense system.
The new RS-24 ICBM, capable of carrying multiple, guidable warheads (MIRV), blasted off from a mobile launcher in northwestern Russia on May 29.
It landed -- on target, according to the Strategic Missile Forces -- 5,500 kilometers away on Kamchatka Peninsula in Russia's Far East.
Not very much is known about the missile's development. A statement from the military said the new missile will eventually replace RS-18 and RS-20 missiles, which are staples in Russia's aging missile arsenal.
Deputy Prime Minister Sergei Ivanov said it was a new version of the Topol-M ICBM, which has a range of around 10,000 kilometers.
However, a spokesperson for the Jane's Information Group said that Russia has said it is a new "designation" of missile, but it isn't yet clear whether it's a new missile or an adapted older missile.
Modernizing Military
Russia is modernizing its military. In November last year, Russian President Vladimir Putin earmarked $200 billion for a 10-year modernization program. On May 29, Ivanov also announced that the military had tested an improved tactical cruise missile.
While the technical specifications of the new ICBM may still be unclear, Russia's message to the West is not.
"The tests are a gesture that should demonstrate that Russia is moving from words to deeds in its relations with the West."
Ivanov, who is considered by many to be a potential successor to Putin, said on May 29 that the new missiles are "able to overcome any existing and future missile-defense shields."
Ivanov's comments were a reference to a proposed U.S. plan to deploy parts of a missile-defense system in Central Europe.
Moscow has criticized the plan, saying it is directed against Russia. President Putin, speaking on May 29 at a news conference with Portuguese Prime Minister Jose Socrates in Moscow, warned against turning Europe into a "powder keg."
"I will say it again: this creates new, unnecessary risks for the entire system of international relations in the world and in Europe," Putin said.
The United States has denied allegations that the missile-defense system is directed against Russia. Washington has said that the shield is intended to defend against threats from "rogue states."

U.S. Secretary of State Condoleezza Rice, speaking today in Potsdam, Germany, after a meeting of Group of Eight (G8) foreign ministers, said it was "ludicrous" for Putin to be concerned that a missile shield may be directed against Russia, or that it may start a new arms race in Europe.

Russian Defense Minister Sergei Lavrov, attending the same Potsdam meeting, replied that such concerns are far from ludicrous because "the arms race is starting again" and "strategic stability is being damaged."
U.S. State Department spokesperson Tom Casey said Russia is within its rights to test new weapons, but added Moscow doesn't need a new system to "overcome" U.S. missile defense.
"Let's just put it in simple numerical terms: 10 interceptors and a couple of radar stations, thousands of Soviet nuclear weapons, warheads, missiles, and others," Casey said at a State Department briefing today.
"I think it's pretty hard for anyone to think that this very small system designed to help ourselves and our allies respond to an attack from a rogue state like Iran in any way, shape, or form can pose a threat to Russia's strategic capabilities or its deterrents."
Arms Race Fears
There are fears that recent defense moves by both the United States and Russia could trigger a new arms race in Europe.
Putin last month said Moscow will suspend compliance with the Conventional Forces in Europe (CFE) Treaty because NATO members Slovenia and the Baltic states have not signed it, while other NATO signatories have not ratified it and are not abiding by its provisions.
And on May 29, Ivanov said that the Intermediate-Range Nuclear Forces treaty (INF) is not effective. He said that "dozens of countries" bordering Russia have acquired such missiles, which the treaty restricts.
The standoff has become so heated that Putin and U.S. President George W. Bush have scheduled a July 1-2 meeting in Kennebunkport, Maine, to discuss the issue.
Yury Fedorov, an expert in Russia's foreign and security policy, at the London-based Chatham House, says a new arms race is possible.
"Unfortunately, if Russia really withdrew from the INF treaty, it may ignite a new so-called missile crisis that would be similar to the missile crisis in Europe in the second half of the 1970s and the beginning of the 1980s of the last century," Fedorov says. "[The missile tests are] a gesture that should demonstrate that Russia is moving from words to deeds in its relations with the West."
With parliamentary elections at the end of this year and a presidential vote in March 2008, Fedorov also says it is likely to be a gesture not just aimed at the West, but aimed at the Russian people.
FURTHER READING
Rogue Threat

A U.S. official discusses the security threats that Washington feels justifies a missile-defense program.

more

Russia Reacts

Moscow has been uncompromisingly hostile to the U.S. missile-defense proposal.

more
Conventional Forces In Europe
Conventional Forces In Europe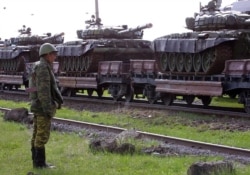 A Russian soldier watching Russian armaments leave Georgia in 2006 (epa)


AGREEMENTS ON CONVENTIONAL FORCES IN EUROPE. The CFE treaty is an arms-control agreement originally negotiated between NATO and the Warsaw Pact as a guarantor of European security in Europe in the waning days of the Cold War.

The original CFE Treaty took 10 years to negotiate, was signed by 30 states ** in November 1990, and came in to force in 1992. Its aim: to reduce stockpiles of conventional armaments between the Atlantic Ocean and the Ural mountains.
The blocs limited themselves to:
20,000 tanks
20,000 artillery pieces
30,000 armored combat vehicles
6,800 combat aircraft
2,000 attack helicopters

The CFE-1A, a 1992 addendum, has resulted in the withdrawal of more than 700,000 troops from Europe since 2001 and the destruction of 50,000 pieces of military equipment by 1995.
The CFE-II, negotiated in Istanbul in 1999, reflected the new, post-Soviet landscape by setting arms limits for individual countries, rather than zones. The agreement aided NATO's expansion efforts by allowing signatory states to allow foreign forces on their soil.
NATO states have not ratified the CFE-II due to concerns over Russia's failure to comply with commitments it made during the negotiations. Under the Istanbul Accords, Russia pledged to set a timetable for closing its remaining military bases in Georgia and to completely withdraw its forces from Moldova.
The CFE-II will come into force once ratified by all 30 CFE signatories. Thus far only Belarus, Kazakhstan, Russia, and Ukraine have ratified the CFE-II.
In ratifying the agreement in June 2004, Russia called on the signatories not to delay in ratifying the document. Russia expressed concern that Lithuania, Estonia, and Latvia, as nonmembers of the treaty, could possibly harbor NATO troops near its western border.
(** Armenia, Azerbaijan, Belarus, Belgium, Bulgaria, Canada, Czech Republic, Denmark, France, Georgia, Germany, Greece, Hungary, Iceland, Italy, Kazakhstan, Luxembourg, Moldova, the Netherlands, Norway, Poland, Portugal, Romania, Russia, Slovak Republic, Spain, Turkey, Ukraine, the United Kingdom, and the United States. )