The video was reportedly released by the Army of Islam, which has claimed responsibility for Johnston's kidnapping.
In the three-minute video, Johnston appears pale and is sitting against a black background wearing a red sweater or shirt. Speaking slowly and calmly, he describes the conditions in which he has been living for more than eleven weeks.
"First of all, my captors have treated me very well," Johnston says. They have fed me well, there has been no violence toward me at all, and I am in good health."
It's not clear when the video was taped or whether he was told what to say.
He criticizes the British and U.S. governments for their military involvement in Iraq and Afghanistan, adding that the British government is "endlessly working to occupy the Muslim lands."
"In three years here in the Palestinian territories, I've witnessed the huge suffering of the Palestinian people, and my message is that their suffering is continuing and that it is unacceptable," Johnston says.
In the video, Johnston starts giving a message to his family, but is cut off. Subtitles then appear on the videotape, saying, "The BBC refused to take this message to his family."
Too Soon To Comment
Simon Wilson, the BBC's bureau chief in Jerusalem, said the broadcaster is investigating the video, which was accompanied by what appeared to be a picture of the 45-year-old Johnston's BBC identification card.
A BBC spokesman in London said the company plans to issue a statement later today.
Speaking after the release of the video, Prime Minister Tony Blair said Britain was doing everything in its power to secure Johnston's freedom.
Britain's Foreign Office also says it is aware of the video. A spokesman, speaking on customary condition of anonymity, said "it is far too early to say whether this is a recent tape or to make any further comment."
In an Arabic voiceover on the video, Johnston's purported captors, the Army of Islam, repeat their demand for Britain to free Muslim prisoners, in particular the Islamist cleric Abu Qatada, who was arrested in Britain in August 2005. Abu Qatada is suspected of being one of Al-Qaeda's key figures in Europe.
Johnston has been missing longer than any foreigner kidnapped in Gaza. His disappearance has touched off protests and solidarity marches in London and the Palestinian territories.
(compiled from agency reports)
World Press Freedom Day
NOT REALLY SO FUNNY:
The Paris-based World Association of Newspapers asked French cartoonist Michel Cambon to produce a series of cartoons on the theme of jailed journalists to mark World Press Freedom Day (May 3). Below, RFE/RL reproduces several of Cambon's cartoons.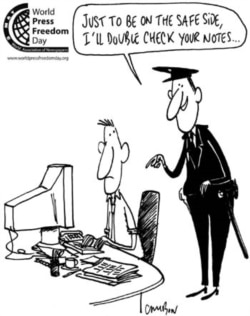 (WAN/Cambon)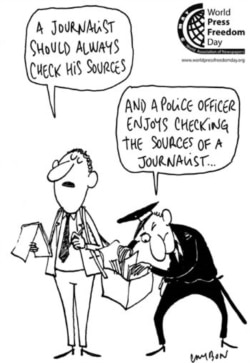 (WAN/Cambon)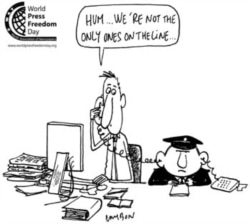 (WAN/Cambon)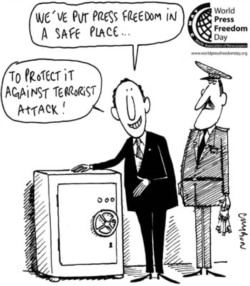 (WAN/Cambon)



RELATED ARTICLES
Threats To Press Freedom Growing More Severe
CIS Press Freedom Suffers Continued Decline
Pressure Mounting On Russian Opposition, Media
Uzbek Government Increases Its Blocking Of News Websites
ARCHIVE
To view an archive of RFE/RL's coverage of media-related stories, click here.
SUBSCRIBE
For regular news and analysis on media issues throughout RFE/RL's broadcast area by e-mail,
subscribe to "RFE/RL Media Matters."