The last of the four arrested in 1992,
Tudor Petrov-Popa, was released on June 4
. Ilie Ilascu was released in 2001 and is now a member of parliament for a nationalist party in Romania. The fourth, Alexandru Lesco, was freed in 2004.
RFE/RL's Romania-Moldova Service spoke to Andrei Ivantoc in Chisinau following his release on June 2.
RFE/RL:
Andrei, it is known that you were very often told to accept a deal. And if you had accepted the compromise, if you "behaved well", perhaps you would have been released sooner, wouldn't you?
Andrei Ivantoc:
What compromise, no way!?

RFE/RL:
Did the Transdniestrians try to buy you with any promises...?

Ivantoc:
Brothers, they are nobody in this land. They are foreign forces, occupational forces. We are the masters in our country, we have to clean up here. There is no way to make compromises with them.

RFE/RL:
Will you find support for your stance here, in Chisinau? Is there anyone to support you?
Ivantoc:
Ask the leadership, they should answer, I can't find an answer to such a question. They forced me out of my land, out of my country. You must have noticed what they did to me -- by beating and torturing they simply pushed me out. And that's it. I am now going to visit a doctor, to clarify what happened, and then we shall see.
RFE/RL:
Are you going for a medical examination? Or is there anything that disturbs you?

Ivantoc:
I have got something, they stretched one of my legs, and I feel a pain in my hand.
RFE/RL:
Did this happen while still in the cell, there?
Ivantoc's Wife:
There in the penitentiary...not at the customs station [where Transdniestrian guards used force against Ivantoc in public].
Ivantoc:
Even in the penitentiary. And this case at the [customs] station.... They had a camera, they filmed it all. The ladies from the OSCE saw it, too. Whether they confirmed or not, I don't know.
RFE/RL:
What was the reason? Why did they beat you?
Ivantoc:
They told me that I was a persona non grata and that they expelled me from the country, from my land, from my home.
RFE/RL:
And as revenge, they beat you up, did they? Is it what they always did?
Ivantoc:
As usual, for 15 years. Can they act differently...?
The Transdniester Conflict
The Transdniester Conflict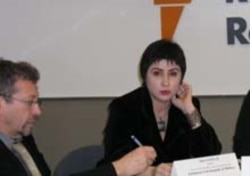 Stela Jantuan, head of the Information, Analysis, and Prognosis Service of the Moldovan parliament (RFE/RL)

FROZEN CONFLICT: On January 11, 2006, RFE/RL's Washington office hosted a panel discussion on prospects for settling the Transdniester conflict. The roundtable featured STEFAN GLIGOR and STELA JANTUAN of the Information, Analysis, and Prognosis Service of the Moldovan parliament and ALEXANDRU FLENCHA, head of the information and analysis division of Moldova's Ministry of Reintegration.
LISTEN
Listen to the complete panel discussion (about 90 minutes):

Real Audio
Windows Media
TALKS CONTINUE. The conflict between the Republic of Moldova and the unrecognized, separatist Transdniester Republic has festered for more than 15 years. A decade of talks supervised by the OSCE, Russia, and Ukraine have stagnated, while allegations mount concerning the involvement of Transdniester separatists in money-laundering and trafficking in arms, drugs, and human beings. What are the current prospects for settling this frozen conflict? (more)
ARCHIVE
An archive of RFE/RL's coverage of Transdniester.