Czech Republic: Locals Object To Proposed Radar Base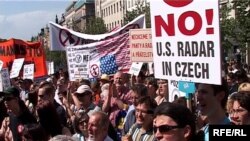 A demonstration against the proposed missile shield in Prague on May 26 (RFE/RL) PRAGUE, June 6, 2007 (RFE/RL) -- On his visit to Prague this week, U.S. President George W. Bush sought to allay Czech concerns about the proposed radar base that the United States hopes to build in the country. But the Czech public remains unconvinced.
Although the United States has won preliminary support from the Czech government, some three-fifths of Czech residents oppose hosting a U.S. base as part of a planned antimissile defense system.
Many opponents -- and even some supporters -- are calling for a national referendum to put the issue to the public.
In the Brdy hills, south of the Czech capital, several of the small towns located closest to the proposed radar site are leading the charge with local referendums of their own. Five towns have already voted overwhelmingly against hosting a U.S. installation in their region, and others are scheduled to follow with further non-binding referendums.
But locals say they're aware a "no" vote in the referendums is unlikely to make any difference. They say they just want to register -- however weakly -- on the Czech political radar.
FURTHER READING
Rogue Threat

A U.S. official discusses the security threats that Washington feels justify a missile-defense program.

more

Russia Reacts

Moscow has been uncompromisingly hostile to the U.S. missile-defense proposal.

more
Missile Defense: Not In My Backyard?
AN RFE/RL VIDEO PRESENTATION: The Czech Republic responds to the U.S. missile-defense proposal.