Azerbaijan To Consider Proposed Russian-U.S. Base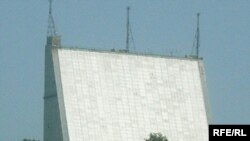 Qabala radar station (RFE/RL) June 8, 2007 (RFE/RL)  -- Foreign Minister Elmar Mammadyarov says Azerbaijan is ready to consider a proposal for the joint U.S.-Russian use of a radar facility in the country as part of a proposed missile-defense system, RFE/RL Azerbaijani Service reported.
"At this moment Azerbaijan's position -- and it is supported both by the United States and Russia -- is that it is necessary to begin consultations in a bilateral format or in a trilateral format," Azerbaijani Foreign Minister Elmar Mammadyarov told a news conference in Baku today. "For my part, I can say that Azerbaijan is ready for such consultations."
Russian President Vladimir Putin made the proposal on June 7 to U.S. President George W. Bush as an alternative to U.S. plans to deploy an antimissile system in Poland and the Czech Republic.

Putin proposed using the Qabala (Gabala) radar station that Russia already leases from Azerbaijan.

Mammadyarov said a U.S.-Russian radar facility in Azerbaijan would "bring more stability to the region."
Speaking at a security conference in Brussels today, NATO Secretary-General Jaap de Hoop Scheffer said: "It's a bit early to judge about the fact if an Azeri radar could do and could be the answer to the threats. I think it's a bit close to the 'rogue states' we are discussing."
(with material from AP, AFP)

Missile Defense: Not In My Backyard?
AN RFE/RL VIDEO PRESENTATION: The Czech Republic responds to the U.S. missile-defense proposal.