What would the impact be on that volatile region -- a crossroads for the competing interests of Russia, the United States, and Iran -- if Washington accepted Russian President Vladimir Putin's offer to jointly use a Russian-leased radar base in Azerbaijan as part of an antimissile shield?
In a word: profound.
After all, Azerbaijan and Armenia, which fought a war in the early 1990s, are still locked in a bitter dispute. And Iran, meanwhile, is unlikely to view favorably more U.S. military moves on its border. Iranian state radio said today that Putin's proposal could have "serious regional implications in the domain of security."
Radio Farda acting Director Mosaddegh Katouzian notes that Tehran and Baku's good relations could be affected, and that the issue is likely to be discussed in two weeks during Iranian President Mahmud Ahmadinejad's scheduled visit to Baku
"Definitely Iran would be concerned about having those types of bases in Azerbaijan because of its own security," Katouzian says. "So probably in the next talks between President Mahmud Ahmadinejad and Baku officials, this is going to come up as a big concern."
Frozen Conflict
Then there's Armenia and Azerbaijan, who fought a war in 1991-94 in which 25,000 died. They have since been locked in a bitter dispute over the object of that conflict: Azerbaijan's predominantly ethnic-Armenian-populated region of Nagorno-Karabakh.
Ironically, Putin's offer comes as Azerbaijani President Ilham Aliyev and Armenian President Robert Kocharian, himself a former Karabakh leader, are to meet in St. Petersburg on June 9 to discuss the standoff over the enclave.
International mediators have hoped that the two presidents can agree on small steps to improve life for people in Nagorno-Karabakh. But they also fear if dialogue fails, violence could resume, destabilizing an area that is emerging as a key energy producer and transport route between the Caspian Sea region and Europe.
Putin's missile-defense proposal, however, appears to risk tipping the balancing act on Nagorno-Karabakh toward Azerbaijan.
Upsetting Regional Balance
Rasim Musabekov, a political analyst based in Baku, suggests Azerbaijan could parlay any pivotal role in Washington's missile-defense shield into obtaining concessions from Armenian in the standoff over Nagorno-Karabakh.
"The discussion of this issue alone is raising Azerbaijan's strategic importance. This is a win for Azerbaijan. If we are taken as partners of the United States of America and Russia, this would give us certain security guarantees and would lead to obligations [on the part of Russia and the United States] to settle problems that Azerbaijan is concerned about," Musabekov says.
Click image to enlarge"In the first place, this means restoring Azerbaijan's territorial integrity, which was violated by Armenian aggression against 20 percent of Azerbaijan's territory," he adds.
So far, Azerbaijani authorities have refrained from offering a full reaction to Russia's proposal.
However, Azerbaijani Foreign Minister Elmar Mammadyarov has told RFE/RL's Azerbaijani Service that Baku is ready to negotiate "bilaterally, or we can do it in the trilateral format" with the United States and Russia, which currently leases the radar base from Azerbaijan.
Armenia, meanwhile, would appear to be concerned about that prospect.
Armenian Foreign Ministry spokesman Vladimir Karapetian tells RFE/RL that both Russia and the United States should "take into account the balance of the power in the region before making such a decision."
Armenia Nervous
But for weeks now, even before Putin made his surprise proposal at the Group of Eight (G8) summit in Germany, that balance has already appeared to be tilting away from Armenia.
Yerevan is traditionally a close ally of Russia. But Harry Tamrazian, head of RFE/RL's Armenian Service, says that in recent weeks there's been a flood of Russian officials visiting Baku, including a visit by Russian Foreign Minister Sergei Lavrov.
"Now, it appears that [the] Russians are talking to [the] Azeris. Russian high-level officials are frequently in Baku. You can see them almost every week in Baku, talking to Azeri leaders," he says. "And this makes Armenian leaders nervous. Obviously, there is a clear rapprochement between Moscow and Baku."
Together with France, the United States and Russia are co-chairs of the Minsk Group, the body set up by the Organization for Security and Cooperation in Europe to seek solutions to the Nagorno-Karabakh crisis.
Yerevan's chief concern now, says Tamrazian, is that if Russia and U.S. interests converge in Baku, Armenia could pay the price.
The Nagorno-Karabakh Conflict
The Nagorno-Karabakh Conflict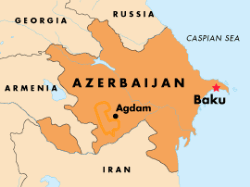 Click on the image to view an enlarged map of the Nagorno-Karabakh conflict zone

In February 1988, the local assembly in Stepanakert, the local capital of the Azerbaijani region of NAGORNO-KARABAKH, passed a resolution calling for unification of the predominantly ethnic-Armenian region with Armenia. There were reports of violence against local Azeris, followed by attacks against Armenians in the Azerbaijani city of Sumgait. In 1991-92, Azerbaijani forces launched an offensive against separatist forces in Nagorno-Karabakh, but the Armenians counterattacked and by 1993-94 had seized almost all of the region, as well as vast areas around it. About 600,000 Azeris were displaced and as many as 25,000 people were killed before a Russian-brokered cease-fire was imposed in May 1994.
CHRONOLOGY: For an annotated timeline of the fighting around Nagorno-Karabakh in 1988-94 and the long search for a permanent settlement to the conflict, click here.

Click on the icon to view images of the Nagorno-Karabakh conflict (Flash required)
To view an archive of all of RFE/RL's coverage of Nagorno-Karabakh,
click here.