It is an stark anomaly amid the lush, rolling hills of northern Azerbaijan -- but one that is accepted.
Cattle graze contentedly around the radar station. And in a local cafe nearby, locals sit underneath a weeping willow tree, placidly drinking tea.
The Qabala radar station has suddenly made international headlines, after Russian President Vladimir Putin offered to share it with the United States for the proposed U.S. missile shield.
"The trees are drying up. We have many children born with abnormalities. It even affects the livestock."
The base, which has a range of 6,000 kilometers, has the power to monitor missiles launched from Asia and Africa.
But most locals were unaware of the news that, thousands of miles away in Germany, Presidents Putin and Bush were discussing Qabala's dragon.
It's an issue that suddenly puts Azerbaijan on the map. But for the locals, the issue is not their country's global status, but questions of health and safety.
Health Concerns
Many of them say that there are worrying signs the radar is having a negative impact on the local residents and nature -- even as they say that if anyone is going to use the radar, it should be Azerbaijan.
"The trees are drying up, due to this [radar]. We have many children born with abnormalities. It even effects the livestock, " one man said. "If you ask my opinion, it should be up to the leadership of my country. If you have to use it, why can't we use it ourselves. Our state is economically strong, so why don't we buy it and use it ourselves?"
In 1991, an Azerbaijani government commission said the radar presented a risk to human health and the local ecology.
Some suggested the study was an effort by a newly independent Azerbaijan to cast criticism on Moscow, which had been responsible for its design and operation in the Soviet era.
No independent studies have been done on the effects of the radar. And in fact, many Qabala residents are sanguine about possible health risks.
"I live 500 meters away from the station. I don't see any damage. In previous years we witnessed the trees drying up, but in recent years we haven't seen so much impact. Over there, we are grazing cattle around the station. It doesn't bother us," one man said.
Early-Warning System
Construction work started on the radar station in 1976 and it has been operational since 1985. The radar was previously known as the Daryal Analytical Information Center.
It forms part of Russia's early-warning system, able to track ballistic missiles which are fired from Asia and parts of Africa.
Russia has a number of these radar bases dotted around the former Soviet Union -- in Belarus, Kazakhstan, and Armenia.
Qabala is staffed mainly by 900 Russian troops, from the Federal Space Forces. The troops live in a nearby barracks.
Some locals seemed to hope that if the radar base was ever used by the Americans, it could bring jobs to this primarily agricultural community.
"Some local people are working in this station and they are paid well. But if the Americans are coming, maybe they will pay better. Maybe they will have jobs for us. And if the Americans would compensate [Azerbaijan for hosting the base], that would be even better," one man said.
Compensation Hopes
The question of compensation -- for the inconvenience of living next to the dragon -- is high on local people's minds.
After the collapse of the Soviet Union, the Russians continued using the base for free, until, in 2002, a 10-year agreement was signed between the two countries.
Under the agreement, Russia leases the radar station from Azerbaijan for a reported $7 million a year. Moscow is also expected to pay a Baku compensation for lost rent from before the agreement was signed.
(Kenan Aliyev and Luke Allnutt contributed to this story.)
Perspective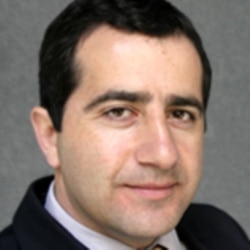 FOR AZERBAIJAN, AN 'EXTRAORDINARY OPPORTUNITY'
By Kenan Aliyev, acting director, RFE/RL's Azerbaijani Service
A WIN-WIN SITUATION. When Vladimir Putin proposed that the United States and Russia share use of the Qabala (Gabala) radar in Azerbaijan, it was partly a matter of luck. It's luck that Qabala is still functioning, luck that it's in Azerbaijan, and luck that Putin chose it as a place where Washington and Moscow could theoretically put their differences aside and cooperate.
On the other hand, it was also a matter of the Azerbaijani government being smart. It's not clear that Baku was first to conceive of a joint U.S.-Russian collaboration at Qabala. But it knew it had the base at its disposal, and it knows now how to use Putin's announcement to its advantage. Washington may ultimately turn down the invitation. But either way, for Azerbaijan, it's a win-win situation.
If the Americans say yes, Azerbaijan will be facilitating a critical global truce. If they don't, Azerbaijan will still be able to present itself as a country where Moscow and Washington could envision a comfortable partnership.
Azerbaijan has already made clear it will demand a role in any negotiations on a joint Qabala project. Being a part of this discussion, being at the table with major players, automatically strengthens Baku's hand, both regionally and internationally. Azerbaijan has already pursued a role for itself as a guarantor of energy security in the Caucasus -- particularly for Georgia -- and as a key oil and gas exporter to Europe and Turkey. Now it will have a new, strategic role to play as well. For a nation of just 8 million people, it's an extraordinary opportunity.
The current regime in Azerbaijan will use this time in the limelight to advance its interests, first and foremost the question of Azerbaijani territorial integrity in its dispute with Armenia over Nagorno-Karabakh. The situation will also give the current regime in Baku an enhanced sense of security in terms of preserving its own power. If talks proceed on Qabala, democracy may drop even lower on the list of priorities for Azerbaijan than it is now. In that sense, the proposal is a lose-lose situation for Azerbaijan.
Still, for most Azerbaijanis, this is seen as a great moment. Suddenly they're at the center of international politics, they've entered the realm of major powers. Simply put, it was great to hear their country's name at the G8.