Bush is in the Czech capital for talks with top leaders about building a radar base in the country.
The issue is a divisive one. The center-right Czech government supports the plan, but the opposition in parliament, as well as a majority of Czechs, are against the idea. But Bush's comments today seemed aimed as much at Russia as at the Czech public.
Russian President Vladimir Putin has threatened to aim Russian missiles at European targets if the U.S. plan is realized.
Bush met this morning with Czech President Vaclav Klaus and Prime Minister Mirek Topolanek, who are in favor of hosting a tracking-radar base and its 200 or so U.S. military personnel at a site southwest of Prague. The three spoke to reporters after their talks.
'The Cold War Is Over'
Referring to Russia's objections, Bush said "the Cold War is over" and that Moscow has nothing to fear from the plan. He called the antimissile system a "purely defensive measure" aimed not at Russia but at "true threats."
"One objective [for a missile-defense system] is to safeguard free nations from the possibility of a missile attack launched from a rogue regime. That's a true threat to peace," Bush said. "As I have told President Putin, Russia is not our enemy. The enemy of a free society such as ours would be a radical or extremists or a rogue regime trying to blackmail the free world in order to promote its ideological objectives."
He said the people of the Czech Republic don't have to choose between "being a friend to the United States or a friend with Russia. You can be both."
"As I have told President Putin, Russia is not our enemy. The enemy of a free society such as ours would be a radical or extremists or a rogue regime trying to blackmail the free world in order to promote its ideological objectives." -- U.S. President George W. Bush
Bush will meet with Putin at a Group of Eight (G8) summit that begins in Germany on June 6.
Klaus said he discussed with Bush the importance of persuading both the skeptical Czech public and the Russian president about the true intentions of the missile-defense shield.
"Of course, we discussed the deployment of a U.S. military base in our country and in neighboring Poland, and I believe President Bush and I agree on this issue, too," Klaus said. "I think it is also important that President Bush promised he would make a maximum effort to explain these matters to Russia and President Vladimir Putin."
Bush also met today with former Czech Prime Minister Jiri Paroubek, whose center-left opposition in parliament wants to hold a national referendum on the issue.
Paroubek is quoted by the Czech CTK news agency as saying his meeting with Bush did nothing to change his party's opposition to the radar base.
"We are divided over this one matter," Paroubek told journalists. "It does not belittle the friendship with the American people."
The Czech daily "Mlada fronta Dnes" noted today that Bush's meeting with Paroubek was "not usual" for such visits.
Czech Concerns
Czech opponents are concerned about possible health, safety, and environmental dangers, as well as the possibility that hosting the base might create a target for a terrorist attack. Some object to the fresh presence of foreign troops on Czech soil after decades of Soviet domination. Others believe the radar base should be part of a larger NATO strategy, not a bilateral agreement between Washington and Prague.
The plan also includes 10 interceptor missiles based in Poland.
"One of the problems that is troubling a lot of people is the fact that this is, indeed, perceived as a strictly bilateral agreement between the United States and the Czech Republic, despite the fact that both countries -- as well as Poland -- are members of NATO," says Jiri Pehe, a Czech political analyst and director of New York University in Prague. "And many people don't understand why this is not a NATO initiative."
Bush emphasized today in Prague that the antimissile defense plan would be implemented "in coordination" with NATO.
Pehe believes Bush's visit to Prague may do more harm than good, at least as far as persuading the Czech public is concerned.
"My feeling is that [Bush's visit] will be very difficult -- if not counterproductive -- because the message is delivered by someone who at this point is, in the Czech Republic, highly unpopular," says Pehe. "And one problem with the American radar base in the Czech Republic -- that is, with the lack of popularity of this project -- is connected exactly to Mr. Bush. I think that if this project was promoted by a different administration, it could be more successful."
Five Czech towns near the proposed site for the tracking radar, southwest of Prague, have rejected the plan in nonbinding referendums. Paroubek's opposition Social Democrats have called for a nationwide referendum.
Prime Minister Topolanek says a referendum is not necessary.
Even parliamentary approval for the radar could be a challenge, however, since Topolanek's governing coalition controls only half the votes in the 200-seat Czech parliament. The support of at least one opposition lawmaker would be needed for the plan to be approved.
Bush is due to hold talks on the missile-defense plan with Polish leaders in the Baltic Sea resort of Jurata on June 8.
Thinking Strategically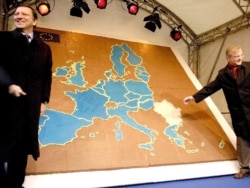 EU officials discussing enlargement at a meeting in December 2006 (epa)
OVER THE NEXT HURDLE: Bruce Jackson, president of the Project on Transitional Democracies, gave RFE/RL a wide-ranging presentation on issues related to European integration in the Balkans and Eastern Europe, as well as strengthening relations between the West and Central Asia.
LISTEN
Listen to the entire briefing (about 60 minutes):

Real Audio
Windows Media
RELATED ARTICLES
Kremlin Sees Its Foreign-Policy Star On Rise
Brussels Mulls Over Its Energy Sources
Experts Ponder Future 'Gas Wars'
The Fate Of The Multivector Model In Central Asia
SUBSCRIBE
For daily news updates from throughout RFE/RL's broadcast region by e-mail,
subscribe to "RFE/RL Newsline."