Son Of Soviet Soldier Seeks Remains From Estonia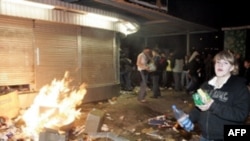 Rioting in Tallinn on April 27 following the removal of the Bronze Soldier memorial (AFP) June 13, 2007 -- The son of a World War II Soviet soldier whose remains were discovered in Estonia wants to take his body back to Russia for burial.
The remains of Aleksei Bryantsev were exhumed from the site in central Tallinn where a Soviet World War II monument stood until it was removed in April. The removal of the monument sparked a major diplomatic spat between Estonia and Russia.
The deceased soldier's son, Viktor Bryantsev, told an Estonian television station that he would like to take his father's remains home.
(AFP, Interfax)