A government spokesman today said the monument has been removed and taken to an undisclosed location.
For 60 years, Tallinn's Bronze Soldier had looked down silently from his pedestal in the center of the Estonian capital.
For Estonia's ethnic Russians, who make up some 25 percent of the population, the statue of the Soviet warrior and the 13 Red Army graves beneath it were hallowed ground.
They were a symbol of the Soviet Union's huge wartime sacrifice to help liberate Europe from Nazi Germany.
But to many Estonians, whose country was forcibly annexed by the USSR in 1940 and only regained independence from Moscow in 1991, the monument was a constant reminder of Soviet occupation, not liberation.
Estonian President Toomas Hendrik Ilves said that for most Estonians the statue stood for "deportations and murders" and the "destruction" of their country.
In recent months, calls in Tallinn had mounted for the monument -- and the graves -- to be moved out of the city center, to a local cemetery.
Months of bitter exchanges between the two sides erupted into violence overnight as local authorities removed the statue.
Some 1,000 mostly young pro-Russian supporters gathered near the site ahead of time, shouting "Shame!" at police officers.
The confrontation quickly turned ugly as the youths tried to force their way past security barricades. Riot police responded with water cannon and tear gas.
Ambulances arrived to take away the injured, which included police officers.
Some of the demonstrators then broke off to vandalize nearby shops, breaking windows, and overturning cars.
Tallinn Police Chief Raivo Kuut later said 43 people had been injured and one person killed in the violence.
Authorities say the victim was stabbed by another rioter -- and was not killed by police.
More than 300 people were detained following the riots.
Mosocow Reacts
Today's reaction from Moscow was swift.
During a visit to Oslo, Russian Foreign Minister Sergei Lavrov called the removal an "inhuman action" and warned Moscow would "take serious steps" against Estonia.
Russia's upper house of parliament, the Federation Council, appealed to President Vladimir Putin to sever diplomatic relations with Estonia, following a proposal by Chairman Sergei Mironov.
"There has been enough mockery of the dead!" Mironov said. "There has been enough mockery of the memory of the great victory! This has surpassed all limits."
Clearly shocked by the overnight violence, Estonian Prime Minister Andrus Ansip told journalists in Tallinn this morning that the government had wanted to move the statue in an "open and decent" way but had been confronted by vandalism and violence.
For now, Estonian authorities have suspended work on excavating the bodies of the war dead beneath the monument, and it remains unclear what will happen to ties between Moscow and Tallinn.


IN FOCUS -- RUSSIA'S RELATIONS WITH THE BALTIC STATES
Estonia's President On Russia

"I would say that virtually all of the issues that we have in our problems with Russia stem from an absolute refusal on the part of Russia to really accept what happened in the past. "

more

Russian Criticizes Baltics At UN

Russia presented a draft resolution to the UN General Assembly last year decrying xenophobia and racism, directed mainly at Estonia and Latvia.

more
Russians In The Former Soviet Union
Russians In The Former Soviet Union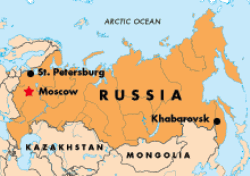 Click on the map to see how many Russians live in each of the former Soviet republics.


RUSSIANS OUTSIDE OF RUSSIA: A total of some 30 million ethnic Russians remain in the republics of the former Soviet Union, including large diasporas in Ukraine, Kazakhstan, and Belarus. This historical legacy has often been a source of tension between Russia and its neighbors. "Support for the rights of compatriots abroad is a crucial goal," Russian President Vladimir Putin said in his April 2005 state-of-the-nation address. "It cannot be subject to a diplomatic or political bargaining. Those who do not respect, observe, or ensure human rights have no right to demand that human rights be respected by others."
ARCHIVE
To view a complete archive of RFE/RL's coverage of Russia, click here.
To subscribe to "RFE/RL's Russia Report," click here .