Ivanov said they should do this to protest what he called "vandalism" against Soviet-era military monuments.
Plans to remove a monument to Soviet soldiers from the center of the Estonian capital, Tallinn, has angered Russia. Estonia says the monument is a reminder of what many Estonians view as Soviet occupation.
Russia argues that removing the memorial would desecrate the memory of the soldiers who died while driving Nazi German troops out of Estonia during World War II.
First Deputy Foreign Minister Andrei Denisov, however, later said Russia was not planning any measures against Estonia. He called Ivanov's comments "emotional."
(compiled from agency reports)
Rising Russian Nationalism
Rising Russian Nationalism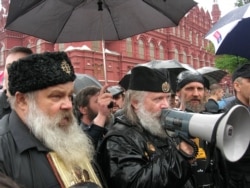 Orthodox believers and nationalists heckling a gay-rights rally in Moscow in May 2006 (RFE/RL)
A THREAT TO CIVIL, RELIGIOUS LIBERTIES: Several leading experts told a briefing hosted by RFE/RL and the U.S. Commission on International Religious Freedom that several mounting trends in Russia are posing a growing threat to human rights, especially for members of the country's ethnic and religious minorities.
LISTEN
Listen to the entire briefing (about 90 minutes):

Real Audio
Windows Media
RELATED ARTICLES
Why Putin Is Going To The Vatican
Bishop Assails Russian Orthodox Church

A thematic webpage devoted to issues of religious tolerance in RFE/RL's broadcast region and around the globe.