The attack comes just weeks after Shi'ite cleric Muqtada al-Sadr extended an olive branch to Sunni Arabs and called on his followers to protect and defend their Sunni brethren in the wake of Al-Qaeda's increasingly bitter attacks that target all Iraqis without distinction.
The February 22, 2006, bombing of the Al-Askari Mosque, which destroyed the shrine's famous golden dome, was a watershed moment in Iraq. It set off a firestorm of sectarian attacks and counterattacks between Sunni and Shi'ite Arabs in the country that continues to this day, pushing the country to the brink of civil war.
As Iraqis brace for more violence in the wake of today's attack, which toppled two minarets at the partially destroyed mosque, the Iraqi government imposed a curfew in the capital until further notice.
PHOTO GALLERY: The Destruction Of The Golden Mosque
The shrine, which houses the tombs of the 10th and 11th Shi'ite imams -- Imam Ali al-Askari and his son, Imam Hasan al-Askari -- is immensely symbolic to Shi'a worldwide. Shi'a believe that the revered 12th Imam, al-Mahdi, went into hiding at the site and will only emerge on the day of judgment.
The site is also immensely symbolic to all Iraqis as a historic artifact, and its destruction signifies a further degradation of Iraqi history and culture.
As Iraqis brace for more violence in the wake of today's attack, which toppled two minarets at the partially destroyed mosque, the Iraqi government imposed a curfew in the capital until further notice. A curfew is likely to be called in Samarra as well; the city has a majority Sunni population and is a base for several insurgent groups, including Al-Qaeda-affiliated Islamic State of Iraq.
Divided Insurgency
Just how Iraqis respond to the bombing will reveal much about the emerging climate in the country. In recent weeks, homegrown Sunni insurgents have taken up arms against the Islamic State, which, due to its composition of foreign fighters, is viewed as an outside force that is doing more harm than good to the homegrown Sunni insurgency.
The Islamic Army in Iraq, one of the most powerful Sunni insurgent groups, has publicly chastised the Islamic State for its attacks on Iraqi civilians. The Islamic Army has also clarified its position on the Shi'a, saying Iraqi Shi'ite civilians should not be targeted; only those Shi'a working to support the so-called Iranian agenda in Iraq -- including the U.S.-supported Iraqi military and police -- should be seen as legitimate targets.
That position has cost the Islamic Army dearly in terms of wider support among Arab mujahedin and their supporters, though it is a position largely supported by other homegrown Sunni insurgent groups. Such a position matters because it speaks to the extent that sectarianism in Iraq has largely been fomented by an outside force (Al-Qaeda) and implies that Muslim unity in Iraq, though it may take years to salvage, is not beyond repair.
Al-Sadr's Role
While many of Iraq's most influential Shi'ite religious leaders have tried to maintain support for Muslim unity over the past two years, their message has largely been drowned out by sectarian hate speech of Sunni and Shi'ite politicians, and by the actions of Shi'ite militias, which have contributed to internecine violence through their actions and rhetoric.
The changing position of Shi'ite politicians like al-Sadr, who now purports to support and defend Sunni Arabs, is largely the result of the political climate surrounding Prime Minister Nuri al-Maliki's administration. Al-Sadr has always positioned himself as a "nationalist" Iraqi who, unlike many of Iraq's current leaders, never fled the country during Saddam Hussein's regime, but rather remained on Iraqi soil to defend his nation. The Iraqi opposition, he claims, returned to Iraq in 2003 as an outside force -- bent on exploiting Iraq's wealth with the help of the United States and with no knowledge of or interest in serving the needs of the Iraqi people. It is this position that enabled al-Sadr to emerge as a force to be reckoned with.
Though al-Sadr has called on his followers to remain calm and not retaliate, it is likely that reprisal attacks will be carried out. Al-Sadr has increasingly lost control of his militia, the Imam Al-Mahdi Army in recent months. The militia has continued to carry out attacks on Sunni Arabs despite their leader's call to defend the Sunni Arab population. Media reports from Sunni-dominated neighborhoods in Baghdad in recent days indicate the Al-Mahdi Army continues to try to intimidate and impose its will on the Sunni and minority Christian populations.

Shi'ite Shrines In Samarra
Shi'ite Shrines In Samarra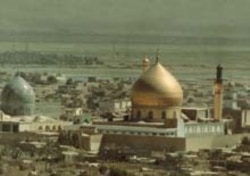 The Golden Mosque before the 22 February bombing (courtesy photo)

UNDER THE GOLDEN DOME: The Iraqi city of SAMARRA is the site of two major Shi'ite shrines. Consecrated in 852, the Golden Mosque is said to hold the remains of two Shi'ite imams: Ali al-Naqi and his son, Hasan al-Askari. A second shrine marks the place where the hidden -- or 12th -- imam, al-Mahdi, son of Hasan, went into hiding.
Imam Ali and Hasan were imprisoned in Samarra, the capital of the Abbasid Dynasty, by Al-Mutawakkil Ala Allah Jafar bin al-Mu'tasim (821-861), who is considered the last great Abassid caliph.
According to historical accounts, al-Mutawakkil felt threatened by the growing influence of Shi'ite Islam and Imam al-Naqi, who was based in Medina. Al-Mutawakkil thus brought Imam Ali and Hasan to Samarra in 848 and imprisoned them inside a military fort. Henceforth they became known as al-Askari (military) because of the location of their imprisonment.
Following al-Mutawakkil's death in 861, his successor had Imam Ali poisoned in 868. Hasan died in 874.
Imam Ali al-Naqi -- the 10th Shi'ite imam, commonly referred to as Imam Ali al-Hadi -- and his son, Hasan al-Askari, the 11th imam, are buried under the Golden Dome, which was a gift from Persian ruler Nasr al-Din Shah (1848-96). The dome's construction was completed in 1905. Also buried in the shrine are Hakimah Khatun, the sister of Imam Ali, and Nargis Kahtun, Imam al-Mahdi's mother.
The second shrine in the complex marks the place where Shi'a believe Imam al-Mahdi (b. 868), the 12th and final imam, went into hiding. According to Shi'ite tradition, Imam al-Mahdi, the son of Hasan al-Askari descended into a cellar under the present-day shrine and disappeared. Shi'a believe that he never died, and he will return on Judgment Day.
MORE: For more information on Shi'ite and Sunni sectarianism in Iraq, see:
Sunni-Shi'ite Tensions High On Eve Of Arab Conference
A Nation Finds Itself At A Crossroads
The Growing Sunni-Shi'a Divide