"Actually, throughout, we have had good relations with Iran and we believe that the security and stability of Afghanistan are also in the interests of Iran," The Associated Press quoted Wardak as saying in Brussels today.
On June 13, U.S. Undersecretary of State Nicholas Burns said there is "irrefutable evidence" that Iran's government was supplying weapons to the Taliban.
(AP)
U.S.-Afghan Relations
STRATEGIC PARTNERS:
Since leading the military campaign to oust the fundamentalist and largely unrecognized Taliban regime from power in 2001, U.S. officials have pledged a long-term interest in Afghan stability.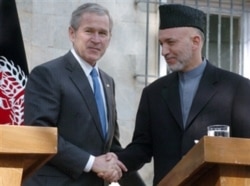 READ
'Strategic Partnership' Seen As Move Toward De Facto Rights For U.S. Bases
Analyst Discusses Increased U.S. Effort
Bush, Karzai Agree On Strategy Against Terror
Former CIA Analyst Says West Misunderstands Al-Qaeda
For regular news and analysis on Afghanistan by e-mail, subscribe to "RFE/RL Afghanistan Report."