NATO is increasingly faced with a dilemma in Afghanistan.
On the one hand, NATO's backing is crucial to extending the authority of President Hamid Karzai's government beyond Kabul and containing the Taliban insurgents in the south and east of the country.
Wardak said there has been no expansion of Taliban influence in the country and that the insurgents have been unable to isolate Kabul.
A Battle For Popular Support
On the other hand, NATO has been unable to subdue the insurgency by military force alone, and leaders of the alliance now fear it may start losing popular support in the country as a result of mounting civilian casualties.
The answer to this dilemma, reiterated today by NATO's defense ministers in Brussels, is to try to get the Afghan National Army and other security forces on their own feet as quickly as possible.
Speaking after the meeting, the NATO Secretary-General Jaap de Hoop Scheffer said the alliance needs to redouble its efforts in training and equipping the Afghan security forces.
"We have, together, I think, come a long way, but we need to do more," he said. "More to train and equip the Afghan National Army (ANA) so [that] the Afghan National Army can do what all armies do -- be responsible itself [for its country's security]."
De Hoop Scheffer said that troop levels in the NATO-led International Assistance Force for Afghanistan (ISAF) are now at more than 40,000 men, up 10,000 since the beginning of the year.
More Troops Needed
But NATO is now increasingly more concerned about securing sufficient training for the ANA. The alliance is asking member states to contribute Operational Mentoring and Liaison Teams (OMLTs), each comprising between 16-20 men, to help train ANA units. NATO officials say they expect to have more than 40 OMLTs in operation by early 2008. Currently there are said to be fewer than 20 OMLTs, and these have been overwhelmingly U.S.-contributed.
A "force contribution" conference in Belgium last week saw additional offers from five to six countries, but de Hoop Scheffer today said he still is "not satisfied."
It would take more than 100 OMLTs to adequately cover the entire Afghan army.
NATO's increasingly intensive focus on training was today welcomed by Afghan Defense Minister Abdul Rahim Wardak, who attended a portion of the Brussels meeting.
"The only sustainable way to provide security in Afghanistan is to enable Afghans themselves to defend the nation as we have done for thousands of years," he said.
After talks with the 37 ISAF ministers, Wardak said the ANA will "in the near future" become responsible for physical security in Afghanistan and NATO will limit itself strictly to a training and mentoring role.
Winning The War?
Wardak gave an upbeat assessment of the current security situation, saying the Taliban has suffered heavy casualties and lost key commanders. He said there has been no expansion of Taliban influence in the country and that the insurgents have been unable to isolate Kabul. He also said there has been "no spring offensive" by insurgents.
However, NATO officials said a number of ministers today and on June 14 spoke of the need to bolster public support for ISAF both within Afghanistan and the troop contributors themselves.
In recent months, Afghan civilian casualties have become a particularly worrying headache for NATO.
'Different Moral Categories'
De Hoop Scheffer today blamed Taliban tactics for this.
"[The Taliban] are -- of course -- trying to achieve that we [lose] the hearts and minds of the Afghan people," he said. "We're still supported by a large majority -- I find out every time I get there. But, of course, they're waging this indirect war against us by exploiting civilians, by using them as human shields."
De Hoop Scheffer said the "bar is high" for NATO in terms of making sure it avoids collateral damage, but noted that NATO and the Taliban operate in "different moral categories."
ISAF [and] NATO [do] not indiscriminately kill people," he said. "That's what the Taliban does -- roadside bombs, suicide bombers. They [account for] by far the most innocent civilian casualties in Afghanistan."
De Hoop Scheffer said NATO defense ministers today agreed to a number of measures designed to minimize the impact of military operations on the local population. The measures include taking greater care in planning and carrying out operations; more effective coordination between NATO, the U.S.-led coalition, and the ANA; ensuring timely investigations of any incidents that occur; and greater allied contributions to humanitarian relief funds.
The Afghan Insurgency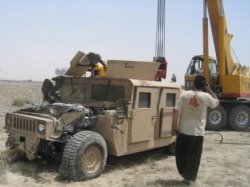 A U.S. military vehicle damaged by insurgents near Kandahar (epa)
HOMEGROWN OR IMPORTED? As attacks against Afghan and international forces continue relentlessly, RFE/RL hosted a briefing to discuss the nature of the Afghan insurgency. The discussion featured Marvin Weinbaum, professor emeritus of political science at the University of Illinois at Urbana-Champaign, and RFE/RL Afghanistan analyst Amin Tarzi.
LISTEN
Listen to the entire briefing (about 83 minutes):
Real Audio
Windows Media
ARCHIVE
RFE/RL's
coverage of Afghanistan
.
SUBSCRIBE
For weekly news and analysis on Afghanistan by e-mail,
subscribe to "RFE/RL Afghanistan Report."