35 Killed In Kabul Police-Bus Bombing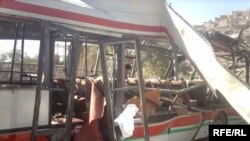 This bus carrying police was targeted (RFE/RL) KABUL, June 17, 2007 (RFE/RL) -- A powerful bomb exploded on board a police bus in Kabul today, killing 35 police and civilians and injuring more than 50.
The bus carrying police recruits and trainers exploded outside police headquarters, in a crowded part of the city.

"The explosion shook the area," an unidentified eyewitness told RFE/RL. "We immediately went out and saw that the smoke was coming out from opposite the main police headquarters. People were fleeing the scene. Being afraid of another explosion we did not get close to the site of the incident."

Police And Civilians
The chief of Kabul's criminal investigation department, Ali Shah Paktiawal, told an RFE/RL correspondent that the victims included both police and civilians.
"In this blast, which took place around 8:00 a.m., many people were injured," Paktiawal said. "But 35 people, including policemen and ordinary people, were martyred."
A spokesman for Interior Ministry, Zemarai Bashari, confirmed the death count and suggested it was a suicide attack.
"The final reports say that 35 people have been killed and some 52 others were injured in this suicide attack," Bashari told RFE/RL. "Some civilians are also among them, but for the time being I can't say the exact number of the civilian casualties. It is said that it has been a suicide attack. The [suicide bomber] has attacked the bus and then exploded himself."
However, it remains unclear whether the blast was in fact caused by a suicide bomber. Police officials have said that one person could not have carried enough explosives to trigger such a powerful explosion.

Police said they were looking into reports that a bomb may have been placed on the bus.
A purported spokesman for the insurgent Taliban movement, Qari Yousef Ahmadi, said one of its members caused the blast. Ahmadi said the bomber was named Mullah Asim Abdul Rahman.

The claim could not be independently verified.

Deadly Statement
The death toll of 35 makes the bus blast the deadliest such insurgent attack in Afghanistan since the fundamentalist Taliban regime was driven from power in 2001.
At least 20 of the dead were confirmed to be police officers and trainers who were on their way to a police academy in the city.


The attack also injured two Japanese, one South Korean, and two Pakistani nationals.
The foreign nationals were driving in another minibus and passing the area at the time of blast. They were working with Ashiana, an organization that provides accommodation and education for homeless children in the Afghan capital.
Germany said that none of the approximately 40 German police stationed in Afghanistan was wounded in the attack. Foreigners are involved in training Afghan police, with Germany leading the way.
The European Union condemned the attack, which occurred just hours before the EU took over from Germany the lead in training the Afghan police force.
Violent Week
Elsewhere today, a roadside bomb hit a U.S.-led coalition vehicle in southern Afghanistan, killing three coalition members and their Afghan interpreter. The nationalities of the soldiers were not disclosed.
In another incident, eight Taliban and two policemen were killed overnight as insurgents attacked a customs office on Afghanistan's border with Iran.
In recent days, there have been several bombings in different parts of the country, including a suicide bombing in Kabul that killed at least four people on June 16.

At least 14 people were killed in those attacks, including a Dutch soldier.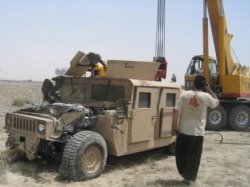 A U.S. military vehicle damaged by insurgents near Kandahar (epa)
HOMEGROWN OR IMPORTED? As attacks against Afghan and international forces continue relentlessly, RFE/RL hosted a briefing to discuss the nature of the Afghan insurgency. The discussion featured Marvin Weinbaum, professor emeritus of political science at the University of Illinois at Urbana-Champaign, and RFE/RL Afghanistan analyst Amin Tarzi.
LISTEN
Listen to the entire briefing (about 83 minutes):
Real Audio
Windows Media
ARCHIVE
RFE/RL's
coverage of Afghanistan
.
SUBSCRIBE
For weekly news and analysis on Afghanistan by e-mail,
subscribe to "RFE/RL Afghanistan Report."