Iraq's Sunni Mufti Dies Of Heart Attack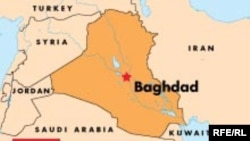 (RFE/RL) June 17, 2007 -- Officials say Iraq's top Sunni religious leader died today after suffering a heart attack in his hometown of Tikrit.
Shaykh Jamal al-Din Abdul Karim al-Dabban was the mufti, or religious authority, for Iraq's Sunni Arab minority.

Al-Dabban, who had been Iraq's Sunni mufti since July 2004, was seen as a moderate who did not play a significant role in the insurgency that followed the U.S.-led invasion in 2003.
(AP)