The surge in electricity demand was such that authorities, fearing a massive blackout, imposed power cutbacks and withheld gas supplies initially destined for Europe.

Moscow's growing energy hunger has been putting the aging electricity grid under pressure for some time. Russia is now the world's fourth-largest consumer of electricity. In the last four years, the country's consumption has risen by almost 22 percent.

Snapped To Attention
It was the 2006 cold snap that persuaded city authorities to launch the first major energy-awareness campaign in post-Soviet Russia. The result is billboards urging Muscovites to switch to energy-saving light bulbs. The posters will stay up until the end of the year.

Environmentalists have largely welcomed the initiative as a first step toward combating wasteful habits in Russia, which is the world's third-largest polluter.

But Igor Bashmakov, the head of the Moscow-based independent Center for Energy Efficiency, says Muscovites are not being encouraged to save energy for the sake of the planet.
Russia's nascent interest in energy efficiency is driven less by a desire to go green than by the realization that energy demand could soon outstrip resources.
"Last winter, when it was very cold, they were unable to meet the demand for electricity," Bashmakov said. "They had to limit industrial enterprises. This is what prompted Moscow authorities to start this campaign. I don't think ecological considerations played any role here."

Moscow has asked Kosmos, a Russian company that sells light bulbs under its own brand, to carry out the campaign. Under the deal, Kosmos foots the advertising bill but is given a discounted rate.

The company has come up with two different posters. One shows the black silhouette of a light bulb and the slogan: "Save energy." The second poster features lights, either yellow or gray, on a black background. The same slogan is written beneath a traditional light bulb with an arrow pointing to an energy-saving bulb.

Mixed Reaction
Igor Podgorny is in charge of energy issues at Greenpeace's Moscow branch. Like other ecologists, he is pleased that authorities have awakened to the urgency of cutting power use. But he says the campaign itself is clumsy.

"We think this is not sufficient," Podgorny said. "Far from everybody knows what an energy-saving light bulb is. First you need to tell to people what it is, and then explain what the advantages are for them."

The traditional incandescent light bulb, developed more than a century ago, converts only a fraction of the energy it receives into light. Energy-saving light bulbs consume around 80 percent less by using ultra-violent rays and gas to produce light.

The bulbs advertised by Kosmos cost more than ordinary lamps -- between 100 and 140 rubles apiece ($3.83 to $5.37). But users are guaranteed substantial cuts in their electricity bills.

The current campaign has persuaded some Muscovites to switch to the new generation of light bulbs. But many others, like Moscow teacher Nina Fedorushina, appear reluctant to part with old habits.

"Of course, I think [the campaign] is positive and appropriate," Fedorushina said. "I just don't have time to go and buy these light bulbs, or maybe it's out of laziness. To be honest, I don't save, because my family has enough money to pay for electricity."


Russia has built up a vast fortune over the past few years by selling oil and gas to foreign customers. But saving energy has been low on the Kremlin's agenda.
Heavily subsided utility bills mean most Russians, like Fedorushina, can afford to keep the water running and the lights on round the clock. The temperature in apartment blocks, controlled centrally, is high. People often cool down their flats in winter by flinging their windows wide open.
The practice is partly a legacy of Soviet times, when people paid flat fees for utilities regardless of consumption. Electricity was -- and still is -- the one exception, but rates were so low that economizing had few advantages.
For Domestic Consumption
Nandita Parshad, the head of the power and utilities section at the European Bank for Reconstruction and Development (EBRD), has been cooperating with Russian officials for the past decade.

Russia's nascent interest in energy efficiency, she says, is driven less by a desire to go green than by the realization that energy demand could soon outstrip resources.

"Ten years ago we were engaging with one of the Russian power companies," Parshad said. "If we had then talked about our environment standards, they probably would have laughed at us. Today, they eagerly want to know more about them and are very happy to sign up to them. But realistically, I think what is happening on the ground in terms of this immediate needs for energy efficiency is coming from the economic realities. I think this campaign is more driven by the agenda of being able to supply more with the same fuel."

In 2005, Moscow's utility grid company, Mosenergo, borrowed more than $110 million from the EBRD to upgrade its plants.

The loan followed an explosion at a Moscow power substation, which caused a huge blackout, paralyzing the city for hours.

Energy-saving light bulbs may do little to improve Moscow's environment. But combined with more efficient power plants, they could prove a valuable contribution toward tackling the city's seemingly insatiable appetite for energy.
Prague Energy Forum, October 23-24
Prague Energy Forum, October 23-24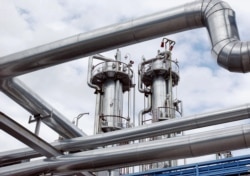 An oil refinery in Western Siberia (TASS)

STABILITY AND SECURITY: On October 23-24, RFE/RL and the Warsaw-based Economic forum cosponsored the Prague Energy Forum at RFE/RL's Prague broadcasting center. The Energy Forum brought together nearly 100 experts and policymakers from Europe, Central Asia, and the Middle East to discuss key issues of energy supply and security in the years to come.
HIGHLIGHTS: RFE/RL presents some of the key presentations from the Energy Forum and interviews with some participants:
Czech Premier Urges Reduced Energy Dependence On Russia
Interview: Nature A Bigger Threat To Security Than Terrorism
Russia Can Boost Security Through Transparency
Interview: Russian Expert Addresses Europe's Security Concerns
U.S. Official Outlines Concerns About Iran's Nuclear Program
Iranian, Western Experts Spar Over Tehran's Nuclear Ambitions
Experts Ponder Future 'Gas Wars'
Former U.S. Ambassador Says Kyiv Can Cope With Gas Price Rise
Interview: Tbilisi Bent On Energy Independence


MORE: Click on the image to see the conference program, participant list, and other materials.