Rice Warns Against Using Iraq For Attacks On Turkey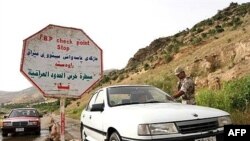 A guard mans a checkpoint in northern Iraq on the border with Turkey (file) (AFP) June 19, 2007 -- U.S. Secretary of State Condoleezza Rice says the United States and Iraqi governments are both opposed to Kurdish rebels using Iraqi territory for "terrorist" actions against neighboring Turkey.
Rice was speaking after talks in Washington June 18 with Iraqi Foreign Minister Hoshyar Zebari.
Turkey's government has accused separatist Turkish Kurdistan Workers Party guerrillas of sheltering in the Kurdish northern part of Iraq.
Turkey has refused to rule out taking unilateral action if such activity is not halted.
(AFP, AP)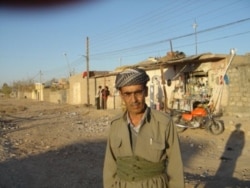 KURDISH AWAKENING: The ethnic Kurdish region in the northern part of Iraq has struggled in recent years to reestablish its cultural and political identity after decades of oppression under the regime of deposed Iraqi President Saddam Hussein. In December, RFE/RL correspondent Charles Recknagel traveled to this area and filed several reports:
Relative Peace Underscores Issue Of Kurdish Region's Future
Kurdish Culture Begins To Flourish In Kurdistan Region
Kurds Ponder How To Strengthen Autonomy After Elections