Gates told reporters today on the sidelines of an Asian security conference in Singapore that Turkey has a "genuine concern" about Kurdish terrorism on Turkish territory, but he said the United States opposes any unilateral action by Turkey across the border in Iraq.
Turkey has built up military forces on the Iraqi border amid tensions over Turkish Kurdistan Workers Party (PKK) militants using hideouts in Kurdish-controlled northern Iraq.
However, Gates refused to comment on a reported U.S. naval bombardment of terrorist targets in Somalia. He described the situation as "possibly an ongoing operation," and said he would not comment further.
Reports have said that a U.S. warship shelled suspected Al-Qaeda targets in northern Somalia on June 1 after government troops clashed with Islamic militants.
(compiled from agency reports)
Searching For A Way Forward
Searching For A Way Forward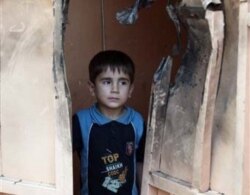 A boy looks out from his Baghdad home (AFP)
LOOKING BEYOND AL-MALIKI: RFE/RL Iraq analyst Kathleen Ridolfo led an RFE/RL briefing about the changing political landscape in Iraq, focusing on efforts to gain the upper hand in the event that the government of Prime Minister Nuri al-Maliki falls.
LISTEN
Listen to the entire briefing (about 70 minutes):

Real Audio
Windows Media
RELATED ARTICLES
Opposition Appears Set On Bringing Down Al-Maliki
Former Premier Pushing New Plan For Reconciliation
Al-Sadr Prepares For Post-Coalition Era
Sunni Ultimatum Rocks Al-Maliki's Position


THE COMPLETE STORY: RFE/RL's complete coverage of events in Iraq and that country's ongoing transition.