But Yasar Buyukanit, the head of the Turkish military's General Staff, said a political decision was needed before any such cross-border operation could be made.
"Do we need to have an operation into northern Iraq? There are two aspects to this issue," he said. "First, from a military point of view, an operation in northern Iraq must be made. Will there be any benefits? Yes there will be. The second aspect is political. To make an operation beyond our borders, there must be a political decision."
Turkey has repeatedly urged the Iraqi government and U.S. forces in Iraq to crack down on thousands of rebels from the outlawed separatist Kurdistan Workers Party (PKK), who use northern Iraq to launch attacks inside Turkey.
The U.S. State Department called on Turkey to refrain from launching cross-border raids and called on Baghdad and Ankara to work together to resolve the matter.
Spokesman Sean McCormack said the Ankara government faces a "real threat" from Kurdish militants and that the situation should be dealt with. But, he said, instead of crossing into Iraq, Baghdad and Ankara should cooperate.
(Reuters, AFP)
Iraq's Kurdish Region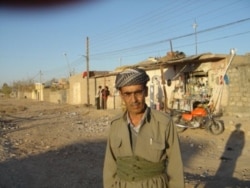 KURDISH AWAKENING: The ethnic Kurdish region in the northern part of Iraq has struggled in recent years to reestablish its cultural and political identity after decades of oppression under the regime of deposed Iraqi President Saddam Hussein. In December, RFE/RL correspondent Charles Recknagel traveled to this area and filed several reports:
Relative Peace Underscores Issue Of Kurdish Region's Future
Kurdish Culture Begins To Flourish In Kurdistan Region
Kurds Ponder How To Strengthen Autonomy After Elections