Rice Urges Turkey Not To Attack Kurdish Rebels In Iraq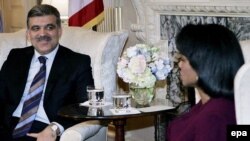 Rice (right) with Gul in Washington on February 6 (epa) February 7, 2007 -- U.S. Secretary of State Condoleezza Rice has urged her Turkish counterpart Abdullah Gul during talks in Washington not to take military action against Kurdish rebels in neighboring Iraq.
Turkey accuse the outlawed Kurdistan Workers' Party (PKK) of using northern Iraq to launch attacks into Turkey.
Ankara accuses Washington and Baghdad of not doing enough to stop the PKK in Iraq.
(AFP)