The EU, effective today, scrapped trade preferences for Belarusian exports, on the grounds that the country violates labor rights.
Now the EU's higher standard import tariffs will apply to Belarusian exports.
"Belarus fails to understand the European Union's suspension from June 21 of trade privileges," the Belarusian Foreign Ministry said in a statement.
"It sees the decision as temporary and assumes that objective reality will prompt the EU to re-examine and rescind it soon. This short-sighted step by the EU will, in the first instance, hurt ordinary Belarusian citizens."
The EU has repeatedly accused Belarus of violating fundamental rights, and has imposed financial sanctions and a travel ban on senior Belarusian officials.
(Reuters)
Politics In Belarus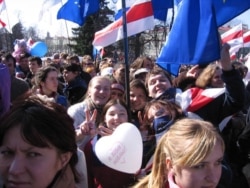 Demonstrators in Minsk on March 25 (RFE/RL)

WHAT HAPPENED? Belarus scholar Vitali Silitski and RFE/RL Belarus analyst Jan Maksymiuk took a look a how Belarus has changed since mass demonstrations in Minsk in March 2006 failed to produce meaningful change in that country.
LISTEN
Listen to the entire briefing (about 70 minutes):

Real Audio
Windows Media
RELATED ARTICLES
Has Regime Adopted New Tactics Toward Opposition?
Lukashenka Is Firmly In His Saddle, Despite A Bumpier Road
Why Can't Belarus's Opposition Just Get Along?
SUBSCRIBE
For weekly news and analysis on Belarus, Ukraine, and Moldova by e-mail,
subscribe to "RFE/RL Belarus, Ukraine, And Moldova Report."