The Taliban's threat to increase attacks in the Afghan capital comes just days after Kabul experienced its deadliest ever suicide bombing -- a Taliban-linked attack on a police bus that killed 35 people and injured more than 50.
The announcement of new Taliban tactics also follows months of counterterrorist operations by NATO in southern Afghanistan that have killed top Taliban commanders and prevented militants from sustaining their threatened spring offensive in that part of the country.
The Taliban has managed to briefly seize several district centers in remote parts of some. But it has not been able to hold those districts for long.
Reconsidering Tactics?
RFE/RL's Radio Free Afghanistan interviewed Taliban spokesman Zabihullah Mujahed today by telephone from an undisclosed location near the Afghan-Pakistan border.
"We are considering the impact of our operations to determine which have been the most effective," he said. "We are now bringing pressure on Kabul because [our] enemy is concentrated there."
A spokesman for the Afghan Interior Ministry, Zemery Bashary, told RFE/RL today that Afghan security forces are preparing to meet the Taliban threat of increased attacks in Kabul.
"We are focusing much more on different places, especially on the routes that lead into Kabul, places inside of Kabul city itself, and other places that are vulnerable to attack," he said. "We are working on new plans that consider the possible threats and we are launching operations with that in mind. We hope we will have fruitful results -- and better results in Kabul city, especially in preventing suicide bombings, which have had a very negative impact on the minds of the people of Kabul."
Lieutenant Colonel Maria Carl, a spokeswoman for the NATO-led International Security Assistance Force in Afghanistan, told RFE/RL today that NATO will further increase its cooperation with Afghan security forces to meet the threat.
But Carl says Taliban statements will not change NATO's overall military strategy.
'Desperate Attempts'
Carl says Afghanistan is in the midst of its "so-called fighting season" and that what is now taking place is exactly what NATO had predicted early this year -- an increase in suicide bombings and more "desperate attempts" by the Taliban to "present the illusion that they are stronger than they really are."
The main focus of NATO's strategy this year has been in southern Afghanistan, where the Taliban had threatened to launch a spring offensive using thousands of militants.
The Taliban has managed to briefly seize several district centers in remote parts of the Helmand, Farah, and Kandahar provinces.
But it has not been able to hold those districts for long. And the cost to the Taliban for those attacks has been high, with NATO and U.S.-led coalition air strikes killing dozens of militants whenever they concentrate their forces.
Several senior Taliban military commanders -- including the infamous, one-legged Mullah Dadullah -- also have been killed while trying to carry out attacks near the strategic Kajaki Dam in Helmand Province.
NATO has said that its own offensives in Helmand and Kandahar provinces this year have been aimed at pushing militants out of mortar and rocket range from the Kajaki Dam.
Important Energy Source
The dam is the largest reconstruction project in Afghanistan. When its electricity-generating turbines and power lines are repaired, it is expected to provide electricity to some 2 million Afghans as far away as the city of Kandahar.
Construction engineers originally had planned to start repairs on the main turbine last summer. But they are still waiting for the fighting in Helmand Province to subside enough to move into a workers' camp near the dam.
Still, with NATO recently declaring success against the Taliban around Kajaki, workers are now preparing to build a 40-kilometer access road that links the dam to the town of Gereshk on Afghanistan's main ring road.
Nevertheless, fierce fighting continues in other parts of southern and eastern Afghanistan with the Taliban continuing its tactic of seizing remote districts in areas where there are few foreign troops or Afghan security forces.
In the northern part of Kandahar Province overnight, Afghan police lost control of the remote Ghorak district to militants -- just hours after authorities had retaken the neighboring district of Miya Mishin from militants.
There also have been fierce clashes in neighboring Oruzgan Province, with fighting since June 16, killing more than 100 people.
(Contributors to this report include RFE/RL's Radio Free Afghanistan correspondents Hamid Mohmand and Fahima Hosa in Kabul and Mustafa Sarwar in Kabul).
The Afghan Insurgency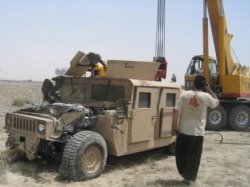 A U.S. military vehicle damaged by insurgents near Kandahar (epa)
HOMEGROWN OR IMPORTED? As attacks against Afghan and international forces continue relentlessly, RFE/RL hosted a briefing to discuss the nature of the Afghan insurgency. The discussion featured Marvin Weinbaum, professor emeritus of political science at the University of Illinois at Urbana-Champaign, and RFE/RL Afghanistan analyst Amin Tarzi.
LISTEN
Listen to the entire briefing (about 83 minutes):
Real Audio
Windows Media
ARCHIVE
RFE/RL's
coverage of Afghanistan
.
SUBSCRIBE
For weekly news and analysis on Afghanistan by e-mail,
subscribe to "RFE/RL Afghanistan Report."