But the summit opened with a warning from Turkish Prime Minister Recep Tayyip Erdogan that political conflicts and territorial disputes were hindering economic progress in the region.
The message was in keeping with efforts by Turkey, which currently chairs the BSEC, to restore new life to the organization.
By the end of the day, some states were showing signs that they were open to reconciliation.
An RFE/RL correspondent in Istanbul said that in a rare bilateral meeting on the sidelines of the summit, Armenian Foreign Minister Vardan Oskanian made an unexpected proposal to his Turkish counterpart, Abdullah Gul.
Oskanian told a press conference that if Turkey is "serious about a dialogue, please open the border first. If the borders between our two countries are open, the Armenian side is willing at a governmental level to create any kind of commission that is needed to address whatever bilateral issues stand in the way of the normalization of our ties."
Turkey and Armenia currently have no diplomatic relations and Armenia was the only country at the summit to be represented by a foreign minister. All others sent presidents or prime ministers.
No Breakthrough On Ossetia
A highly anticipated meeting between the Russian Foreign Minister Sergei Lavrov and Georgian Foreign Minister Gela Bezhuashvili didn't meet expectations.
Coming into today's talks, there were reports that Georgia would use the opportunity to discuss its breakaway region of South Ossetia.
The Russian daily "Kommersant," citing an unidentified "source in the Georgian government," reported that Georgia would seek to convince Russia to give up its support for South Ossetian secessionist leader Eduard Kokoity.
In exchange, according to the source, Georgia would be willing to support Russia's accession to the World Trade Organization.
But it was not to be. RFE/RL's correspondent said that in the end the two ministers were able to meet only briefly because they did not want to disrupt the summit's agenda.
After their closed-door talks, however, the two ministers did take the time to deny reports of the potential breakthrough reported by "Kommersant." Interfax quoted Lavrov as saying he was "amazed" by the article, while Bezhuashvili said that "neither Georgia nor Russia base their policy on a newspaper article and journalists' opinion."
Georgian President Mikheil Saakashvili, also in attendance, did promise a breakthrough in resolving the conflict with the breakaway region.
Economic Cooperation Tops Agenda
High on the group's agenda were plans to reduce trade barriers, and to develop transportation infrastructure -- including a proposal to build a 7,500-kilometer ring road along the Black Sea coast.
Russian President Vladimir Putin, addressing the summit just a day after proposing an energy grid that would link the Black Sea states, called on BSEC members to coordinate their energy strategies.
"Energy-resources supply is becoming an ever more significant factor of progress," Putin said. "In this regard we are proposing to strengthen the stability of Black Sea energy markets, including by broadening the practice of long-term contracts."
The Russian president also stressed new opportunities for developing transport infrastructure in the region, including the resumption of passenger- and cargo-ferry services between Black Sea ports.
The BSEC includes the six countries on the Black Sea -- Bulgaria, Georgia, Romania, Russia, Turkey, and Ukraine -- plus neighboring Albania, Armenia, Azerbaijan, Greece, Moldova, and Serbia.
Russia's Contentious WTO Bid
Russia's Contentious WTO Bid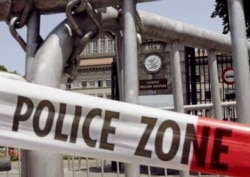 Russia remains barred from entering the WTO (epa)

WILL RUSSIA GET ITS WISH?

"It is of the utmost importance for us to complete talks this year in order to take part in a new political cycle with the status of a WTO member" -- Russian Economic Development and Trade Minister German Gref; April, 2007.

Russia has made clear its desire to enter the World Trade Organization ahead of parliamentary elections in December and presidential vote in March 2008.
But despite the removal of a major obstacle when the United States signed off on bilateral negotiations with Moscow in November 2006, Russia's accession to the world's largest trading bloc still faces difficulties:
Before Russia's bid can go to the WTO for a majority vote, bilateral negotiations must be completed with any current members who wish to do so. Russia hopes to wrap up outstanding negotiations -- with Cambodia, Vietnam, Georgia, and Guatemala -- by July.
Although Russia and Georgia initially completed bilateral negotiations in 2004, Georgia rescinded its approval over Moscow's failure to establish customs controls between Russia and the Georgian breakaway republics of Abkhazia and South Ossetia.
U.S. Trade Representative Susan Schwab announced in April that Washington is not yet prepared rescind the Jackson-Vanik amendment. The Cold War-era legislation, adopted in response to Soviet restrictions on the emigration of Jews and other minorities, prevents normal trade relations with Russia.
Russian First Deputy Prime Minister Sergei Ivanov in April was quoted by ITAR-TASS as saying: "If there are requirements that have not been not applied to other countries joining the WTO, we should not follow them."
Moscow may have to conduct bilateral with Kyiv in the event Ukraine joins the WTO before Russia does.
RELATED ARTICLES
Moscow Nears Deal With U.S. On WTO Entry
Georgian Premier Outlines Stance On Russian WTO Entry