Speaking in Zagreb at an energy summit that featured the leaders of eight Balkan countries, Putin suggested that an electricity ring be constructed that would link all the Black Sea states.

Such an electricity ring, he said, would allow for the formulation of "the main aspects of a common energy market," Interfax reported.
Putin said Russian companies also want to build help modernize power stations and establish gas-storage facilities in the Balkans.

New Black Sea Pipeline
Putin also touted an agreement Russia's Gazprom reached on June 23 with the Italian company Eni to work on laying a new natural-gas pipeline under the Black Sea.

The pipeline would start in Russia and cross under the Black Sea to Bulgaria. It would be part of the South Stream project -- a 900-kilometer pipeline that would route Russian gas to Italy and Central Europe.

"This is an important project that holds much promise and which will help improve the energy situation in Europe as a whole," he said. "And we are very glad that not only the Italian government supports this project, alongside the Russian government, but also the commission of the European Union."

Putin gave assurances that "when participating in energy projects in the Balkans, Russia will always apply the highest environmental standards."

Citing the work of Russian firms in the Caspian region, Putin said "our companies work in the production of oil and gas and they successfully compete with the world's leading companies."

"Our environmental standards are higher than those in other countries," ITAR-TASS quoted him as saying.

Plans to link Russia's Druzhba and Croatia's Adria oil pipelines, and a project to build a gas pipeline linking the Bulgarian port of Burgas to the Greek port of Alexandroupolis were also on the minds of participants of today's summit.

Putin said the Burgas-Alexandroupolis pipeline would have a capacity of 35 million metric tons per year, with the ability to expand to 50 million metric tons a year.
Time Will Tell
Russian Industry and Energy Minister Viktor Khristenko stressed today that none of Russia's projects are directed against any other projects.
When asked whether the Druzhba-Adria project is still relevant, he said, "it is premature to bury any idea, because only time can do this," Interfax reported. "As far as the pipeline and the pipeline networks are concerned, the Burgas-Alexandropoulos project is the most topical and advanced today."

Putin sought throughout today to stress Russia's reliability as an energy partner. However, Romanian President Traian Basescu, countered that the region should seek to reduce its dependence on Russian energy.

"We will never accept the idea of using energy as an instrument of political pressure," AFP quoted Basescu as saying.
The Post-Soviet Petrostate
The Post-Soviet Petrostate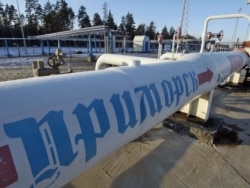 The oil-export terminal at Primorsk, Russia (TASS)


WEALTH AND POWER. At an RFE/RL briefing in Washington on January 24, Freedom House Director of Studies Christopher Walker and RFE/RL regional analyst Daniel Kimmage argued that energy-sector wealth is preventing many former Soviet countries -- Azerbaijan, Kazakhstan, Russia, and Turkmenistan -- from developing strong democratic institutions.
LISTEN
Listen to the entire briefing (about 90 minutes):

Real Audio
Windows Media
RELATED ARTICLES
Russia's Gazprom Looks Ahead To A New Year
Azerbaijan: Coping With The Oil Windfall
Azerbaijan Boom Sparks Fears Of Dutch Disease
Kazakh President Tells West -- We Don't Need Your Advice
Could Turkmen President's Death Lead Instability?